Squarely blaming the Shiv Sena for the dramatic turn of events in Maharashtra, Union minister Ramdas Athawale on Saturday urged Nationalist Congress Party chief Sharad Pawar to walk over to the National Democratic Alliance camp, hinting that he might be rewarded with a plum portfolio at the Centre.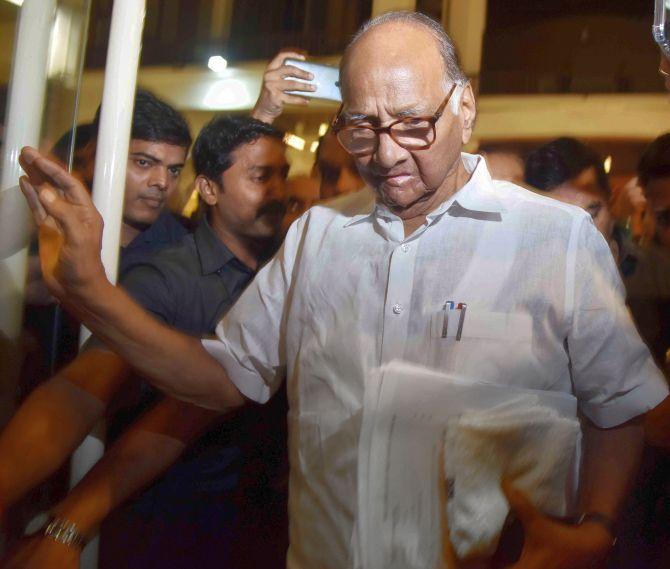 He said Pawar should also consider backing his rebellious nephew Ajit Pawar -- sworn in as the deputy chief minister of Maharashtra.
"Sharad Pawar, too, should consider revising his stance and joining the NDA. He may get some good portfolio at the Centre," Athawale said when asked about the difficulty the NCP faction headed by Ajit Pawar might face in engineering a split before the floor test on November 30.
The month-long political impasse in Maharashtra ended dramatically on Saturday with the Bharatiya Janata Party's Fadnavis returning as the chief minister, backed by the Nationalist Congress Party.
"After the BJP and the Shiv Sena fought the assembly polls in alliance and won a majority, the former behoved the Sena to help the saffron party head the government and settle for the deputy chief minister's post.
"Any other grievances could have been settled in due course. But, it threw a tantrum and caused a stalemate. Ultimately, they have been outsmarted by the modern day 'Chanakya' Amit Shah," the minister told reporters.
Athawale, known for his rhyming repartees, added: "BJP ne Congress ko latka diya hai, Shiv Sena ko jhatka diya hai aur NCP ko sarkaar mein atkaa diya hai (the BJP has left the Congress in a quandary, shocked the Shiv Sena and taken the NCP along in formation of the government)."