The situation in Joshimath remains grim as one of the Hindu monasteries, the Shankaracharya Matth in Jyotirmath area, has also developed cracks in many places over the past 15 days, triggering a scare in the religious institute.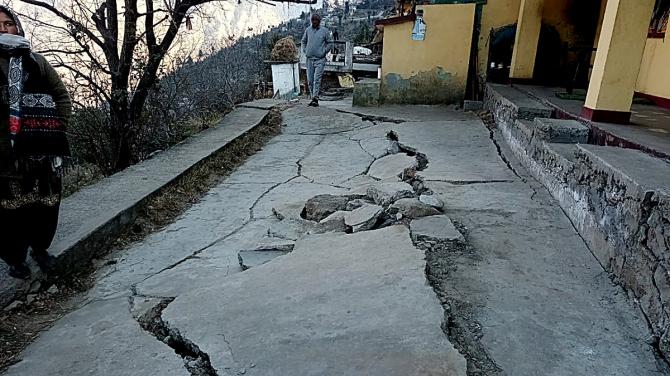 According to the Jyotirmath administration, these cracks have increased in the last 15 days.
Swami Vishwapriyananda, chief of Matth has cited the 'development" as the cause of the calamity.
"Development has now become a reason for destruction as hydroelectric power projects, and tunnels have affected our town. There were no cracks before 15 days, but these days the cracks are continuously increasing in Matth," Vishwapriyananda said while talking to ANI.
The town of Joshimath also called Jyotirmath, is the winter seat of Lord Badrinath, whose idol is brought down from the main Badrinath temple to Vasudeva temple in Joshimathevery winter.
The holy town of Joshimath is revered by the Hindus as an important pilgrimage center of the country.
Meanwhile, the district administration has made arrangements for the affected families in the subsidence.
Following the appearance of cracks in the houses, a total of 66 families are reported to have migrated from Joshimath as of now.
"The district administration has made arrangements for the families affected by the natural calamity to stay in safe relief camps," the administration said on Sunday.
District magistrate Himanshu Khurana visited the relief camps last night and took stock of the arrangements.
"If there is any requirement, it is being made available immediately," he said.
Residents of Joshimath, a sacred town in Uttarakhand, have become alarmed after noticing fissures in the town's houses and roadways and have been evacuated and shifted to night shelters of the municipality by the administration.
According to the district disaster management department, cracks have reportedly developed in as many as 561 houses in Joshimath as a result of continued land subsidence in the town.
The affected people, their families, and children are currently living in night shelters, officials said.
The state government has dispatched a team of experts to the area to assess the situation.
The teams from National Disaster Response Force (NDRF) have also been deployed in the area as a precautionary measure, Chamoli chief development officer Lalit Narayan Mishra said on Friday.