We're not responsible for his release, says JD-U after BJP's attack.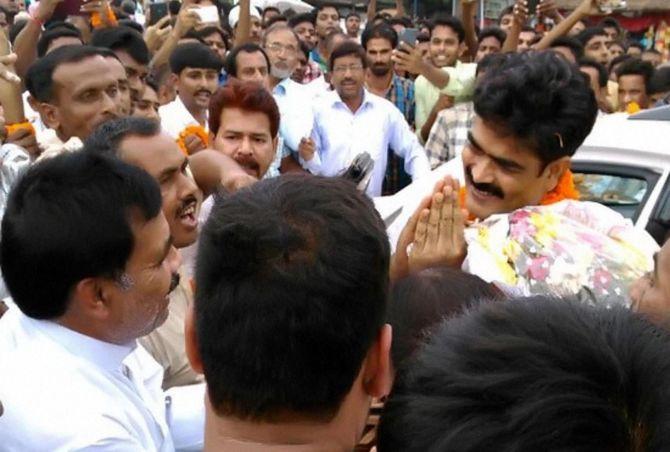 The convoy of former Rashtriya Janata Dal member of Parliament Mohammad Shahabuddin, which was en route to Siwan, crossed a toll plaza at Muzaffarpur without paying the charges.
The cavalcade of the gangster-turned-politician had started from Bhagalpur to reach Siwan, as the Patna high court has granted him bail in the much-publicised Rajiv Raushan murder case.
The entire incident was captured by the cameras installed at the toll plaza.
Muzaffarpur toll plaza Assistant Manager Dipak Chaube said they had police orders to let more than 200 cars in Shahabuddin's convoy pass without toll.
"According to the rule they would have paid the toll. But if there is a VIP moment then we allow the cars to pass. Had police orders to let more than 200 cars in ex-MP Shahabuddin's convoy pass without toll. The convoy included many red beacon cars and many from the administration," he said.
The Patna high court granted bail to the tainted leader in the controversial Rajiv Roshan case.
Meanwhile, the ruling Janata Dal-United said on Monday that the Bihar government is not responsible for the former RJD MP's release from jail.
"The court had sent him to jail and given him life imprisonment. He was released with the court's order itself. The Bihar government is not responsible for this," JD-U leader K C Tyagi said.
Resonating similar sentiments, another JD-U leader Sanjay Singh said Bihar Chief Minister Nitish Kumar has always been a leader and would remain so.
"No one can taint his image. Nitish Kumar has become a subject of discussion for his works. He has proved that he is the leader of Bihar by bringing the state back to track," he said.
The Bharatiya Janata Party has continued to maintain that the development is an indication that 'jungle raj' is back in Bihar and Nitish Kumar can do nothing, but be a mute spectator.
Emphasising that Nitish has no control over the current situation with Shahabuddin not even considering him as a chief minister, BJP leader Nalin Kohli said that it's a matter of confirmation that 'gunda raj and jungle raj' has returned to Bihar and Nitish Kumar is willing to be a mute spectator to what the people are suffering.
However, Nitish on Sunday gave a terse response to Shahabuddin's comments saying that he came to power only from the mandate of the public of Bihar and that he could not care less about what others said about it.
Shortly after getting released, Shahabuddin said 'My leader is Lalu Yadav,' and dismissed Nitish Kumar as a 'chief minister of circumstance'.
He had been sent to jail in November 2005 in connection with the murder of Rajiv Ranjan, a prime witness in the murder of his two brothers Girish Raj and Satish Raj. The brothers had been murdered in Siwan in August 2004.
IMAGE: Mohammad Shahabuddin being greeted by supporters after being released on bail after 12 years of imprisonment. Photograph: PTI Photo