Several professors of Jawaharlal Nehru University and other institutions have accused a former JNU employee of duping them of crores of rupees promising them homes on a Delhi Development Authority (DDA) plot under a housing development scheme which was never there.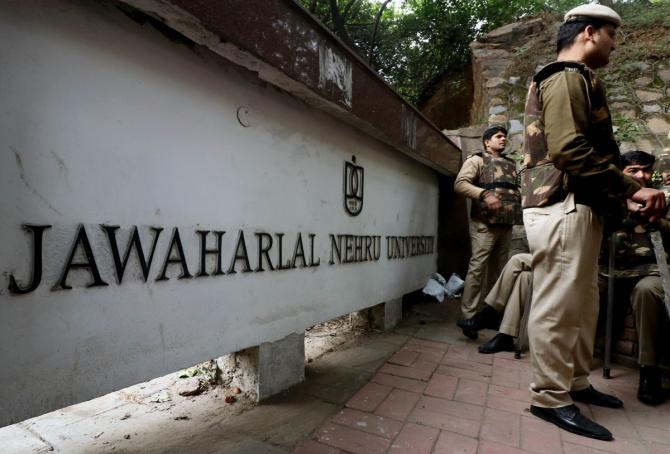 After waiting for over seven years, when these academics did not get anything except hollow promises, their patience ran out and they lodged a formal complaint with the Delhi Police.
Prima facie, police have found incriminating evidence against the accused in the matter and have lodged a first information report (FIR).
In 2015, just before he was due retirement, Dr D P Gaikwad, a technical staff in the Department of Environmental Science of JNU, floated a society and named it Noble Socio-Scientific Welfare Organisation (NSSWO).
He sold its membership to his peers claiming that the society owned land in the L-Zone in Dwarka Najafgarh Area under the Land Pooling Policy.
He collected from Rs 2 lakh to Rs 16 lakh each from the academic and non-academic staff of JNU, IIT-Delhi, and other nearby institutions for three years in various installments, assuring them that the project was on.
"To make it appear real, he took several of us to show a piece of land, but later it turned out that NSSWO was not the owner of the land," Professor Gobardhan Das, chairperson, Molecular Medicine, JNU, said.
"After collecting a hefty amount by cheating all the members, he stopped communicating and blocked all his phone numbers," Das, a victim of the scam, said.
After he went incommunicado, he was however traced in Gurugram by some professors who went there to confront him.
All the same, he again reeled them in with the offer of another lucrative scheme.
"He continued to play his trick of cheating and in February 2019, he offered to transfer our membership of NSSWO to another entity named Siddhartha Officers Housing and Social Welfare Society (SOHSWS) through which our flats were to be delivered, however, with a significantly escalated cost," Prof Biswajit Kundu from IIT-Delhi, one of the 10 complainants in the FIR, said.
"He didn't give any explanation for doing so, nor did he provide any details of any consequent changes in the agreement.
"In spite of repeated requests by several members, he never called a general body meeting of either society, nor took consent from the members of NSSWO for the changes made unilaterally," Kundu added.
Gaikwad himself admitted that there are 38 professors from JNU who have invested in the project, Das said.
"There are two from IIT and many more from other nearby institutions as far as I know. Initially, in a few cases, he returned 50 to 80 per cent money when he was forced to do so, but later he simply refused to return any money," Das added.
Dr Bindu Dey, a former senior scientist in the Department of Biotechnology in the Ministry of Science and Technology, was another victim of Gaikwad.
Having lost Rs 8 lakh in a bogus scheme, Dey in 2018 filed a complaint against Gaikwad at Vasant Kunj Police Station where an FIR was lodged against him.
"He collected Rs 16 lakh from me in the name of offering an affordable home but kept delaying with one excuse or the other.
"After a lot of persuasion and follow-up, he returned Rs 8 lakh but the remaining amount is still with him," Dey, who retired from the DBT, said.
These academics are the latest in a huge list of victims of real estate fraud in the L-Zone where the DDA had first announced the Land Pooling Policy around 2014.
Before the policy could take the final shape, many housing schemes were floated and till date thousands of people have been defrauded.
Despite DDA's advisories cautioning people against making any investment in the L-zone in various newspapers, people in need of an affordable home continued to invest and falling prey to frauds.
"The DDA amended the policy in 2018 but still there is a whole lot of ambiguity around it. Investing here is a trap for any prospective homebuyer. I advise people to stay away from it," Amit Jain, a real estate expert, said.
© Copyright 2023 PTI. All rights reserved. Republication or redistribution of PTI content, including by framing or similar means, is expressly prohibited without the prior written consent.