Outgoing Central Bureau of Investigation Director A P Singh looks back at his tenure as the chief of the country's premier investigating agency. He spoke exclusively to rediff.com's Onkar Singh.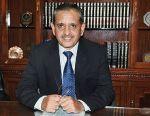 What was the main task before you when you took over as CBI director?
In my first press conference after taking charge as Central Bureau of Investigation director I had shared my point of view…it has been my endeavour to make the CBI more transparent and ensure that our officers, despite the shortage of manpower, carried out the task entrusted to them.
Are you happy with what you have achieved?
There are good moments and bad ones too. One has to take them in stride as you work with your colleagues. By and large we have managed to achieve what we were aiming for. I would say that I am pleased with the organisation's performance. The conviction rate during my tenure was 70 per cent.

What challenges lie before your successor Ranjit Sinha?
To become CBI director is a prestigious assignment. Sinha has some difficult challenges before him. I wish him good luck. 

What do you plan to do once you call it a day?

I plan to take three months off and enjoy life. I love to play golf and that is the first thing I plan to take up. I also plan to do a bit of travelling and reading.
As of now I have no plans to take up any assignment, but if I get something challenging I may consider it.

Are you content with the developments in the Aarushi murder case? You wanted to close the case before the magistrate asked you to file a chargesheet against Dr Rajesh Talwar and Nupur Talwar?

The matter is sub judice and hence I would not be in a position to discuss the case in detail. We felt there wasn't sufficient evidence but the magistrate felt otherwise. Let us see how it shapes up in the days to come.

In your first press conference you said you would not hesitate to take action against the high and mighty involved in the 2G case. Are you satisfied that A Raja and Kanimozhi could be sent to jail?

Yes I did say that. We insulated the CBI from outside pressures. Since the Supreme Court was monitoring the case it helped us in dealing with the pressure. 
The high and mighty going to jail improved the CBI's position in the eyes of the people of India.

You said that there has to be better police liasoning with some of the countries. Which countries are these?

Basically Dubai. The Mauritius police has asked for some clarifications on the kind of information we need from it. We are in the process of sending it to them.

We had the Commonwealth games scam in which Suresh Kalmadi was sent to jail with Lalit Bhanot, but no action was taken against Delhi Chief Minister Sheila Dikshit. Why?

We had sufficient evidence against both Kalmadi and Bhanot hence action was taken against them. It is wrong to say we did not take any action against the Delhi government. We have registered FIRs against some of the top officials of Delhi.
You booked senior officials of private companies but you did not take action against the owners who got contracts in the coal-gate scam?
We booked the officials as they were not cooperating with us. If they had given names of the owners involved in the scam we would have taken action against them.

You were asked to appear before the Joint Parliamentary Committee to answer questions related to 2G and coal-gate scam. Do you stand by your statement that put the 2G scam over Rs 30,000 crore?

It was a notional figure that we quoted. I was called twice and I appeared and answered all the questions. I would like to put on record that attempts were made to marginalise the CBI through the Jan Lokpal and Lokpal bill.
Every attempt was made to reduce our existence. The CBI made a new way for selection of a new director of CBI. I am glad the government has accepted our plea.
We have booked some top officials in government agencies.

In the past too, several high profile cases were investigated by the agency such as Jain Hawala, Rajiv Gandhi assassination, Harshad Mehta, Bombay blasts, Ketan Parekh, Telgi and more recently Satyam. Nobody can deny that this is a high pressure job; more so because the director takes the heat. 
Did you receive any complaints against Robert Vadra?
Nobody has approached the CBI with a complaint against him as is being claimed by certain individuals.