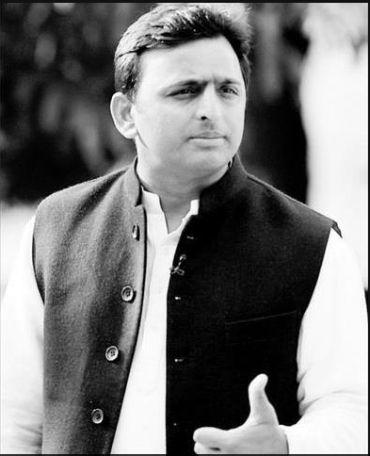 Ever since Akhilesh Yadav took charge as Uttar Pradesh chief minister, the state has seen a rise in communal clashes – seven in as many months. Sharat Pradhan reports.
Chief Minister Akhilesh Yadav's Uttar Pradesh has been once again stung by a communal clash -- the seventh in seven months of his rule. And this time it was in Faizabad, barely 8 kilometres from Ayodhya, the epicentre of India's communal boiling pot.
While trouble had sparked off over teasing of a young girl by some miscreants on Wednesday, it soon took a communal colour leading to violence, arson and exchange of firing which left dozens injured. However, what was alarming that the violence could not be controlled even after 24 hours.
It all happened during the course of a procession of Goddess Durga's immersion on Thursday, when a girl complained that some young men had made obscene passes at her.
What followed was an altercation, which soon escalated into a communal free-for-all. Ironically, at a time when the city was readying itself to observe  Dussehra  by burning the Ravan  -- signifying the victory of good over evil --  rowdy rival groups  got down to fighting pitched battles.
It was only after the chief minister took stock of the situation that some serious action could be initiated. A curfew was clamped in large parts of the vulnerable town on Thursday afternoon, followed by suspension of some junior officials, who were held guilty of 'neglect'.
Late on Thursday evening, the state government issued orders for suspension of Additional District Magistrate Srikant Misra and Superintendent of police (city) Ramji Singh Yadav.
Top government officials were still dilly-dallying on the question of fixing responsibility for the administrative lapse, when the chief minister intervened to declare, "It is quite evident that some people are trying to vitiate the congenial atmosphere in the state, but I wish to make it loud and clear that stern action would be taken against such element and they would be soared under any circumstances."
Earlier, State Director General of police A C Sharma had also not minced words by announcing, "I am shocked that all the violence took place in the presence of an ADM and SP (city)."
What has become the cause for worry is the fact that the series of communal clashes that began in the state since June do not seem to come to an end. It may be recalled that the first incident of communal violence was witnessed in Mathura on June 6, when four persons died and nearly a 100 were injured. 
That was followed by a similar incident on June 24 in Pratapgarh where 50 houses were razed to the ground and over a dozen persons were left injured.  Close on the heels came yet another communal rioting on July 3 in Muzaffarnagar.
Another major communal clash took place in Barielly on July 22, leaving four dead and followed by a month-long spell of curfew. 
Communal tension threw life out of gear in parts of Lucknow and Allahabad on August 17 again, when several incidents of arson and violence were reported from both places. Yet another major clash in Ghaziabad on September 15, leaving six dead and dozens injured, followed by Faizabad now.