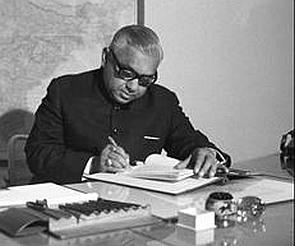 It took 40 long years for the killers of former Railway minister L N Mishra to be brought to justice. A Delhi court on Monday held the accused -- advocate Ranjan Dwivedi, Gopalji, Santoshanand Avadhuta and Sudevananda Avadhuta -- guilty of murdering him.

Here are seven things you should know about the case:

* As railway minister, Mishra had gone to Samastipur January 2, 1975, to declare open the Samastipur-Muzaffarpur broad-gauge railway line, when he was injured in a bomb explosion. He was rushed to the railway hospital at Danapur where he died the following day.

* The Central Bureau of Investigation had alleged that Anand Margis had carried out the attack on Mishra to put pressure on the government for releasing one of the group's leaders. The four accused were
members of this group.
* Advocate Ranjan Dwivedi was 27-year-old when he was arrested. He is now a frail 67 year-old and has already suffered a heart attack. Of the 39 defence witnesses cited by him to prove his innocence, 31 have died.
* As many as 22 judges have handled the trial at various stages.
* The Supreme Court transferred the case to Delhi in 1979. The charges against accused were framed in 1981. On the apex court's direction, the lower court began hearing the final arguments in 39-year-old case on a daily basis September 2012.
* Over 200 witnesses, including 161 prosecution witnesses and more than 40 defence witnesses, were examined, and final arguments in the case concluded in September 2012.
* The Supreme Court had in August 2012 dismissed the accused's plea to terminate the proceedings, ruling that this could not be done merely because the proceedings had not been concluded in over three decades. The apex court directed the trial court not to entertain any plea for unwarranted adjournment.