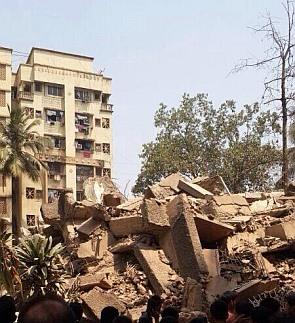 Seven people were killed and four injured after a seven-storey building collapsed in suburban Santacruz in Mumbai on Friday, officials said fearing more casualties.
The Shankarlok building located in Yashwant Nagar near Grand Hyatt Hotel collapsed this afternoon and the dilapidated structure fell on the adjacent chawl, trapping many under the debris, a senior BMC official said.
He, however, did not specify the number of people.
The collapsed building was served demolition notice three times in 2007, 2008 and 2010, he said.
"Since it was a dilapidated building, notice was served thrice. However, the matter went to court and the demolition was stayed," the official said.
He said there were three families living in the building. "All BMC rules were followed. However, the residents went to the court," he said.
The injured have been admitted to a nearby civic hospital, an official at the BMC disaster management cell said.
Rescue operations by fire brigade personnel and the National Disaster Relief Force was on till late in the evening and there could be more casualties, the official said.
Two of the deceased were identified as Chandanben Kantibhai Patel, 50, and Sudha Sridharan, 32.
© Copyright 2023 PTI. All rights reserved. Republication or redistribution of PTI content, including by framing or similar means, is expressly prohibited without the prior written consent.