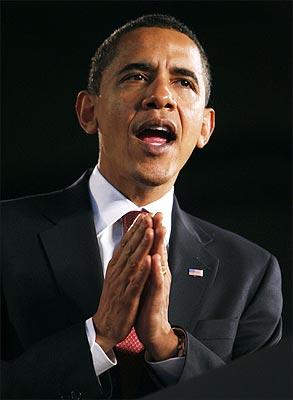 United States President Barack Obama believes Republican White House hopeful Donald Trump would not be elected as his successor as being a president is tougher than hosting a reality show and Americans are too "sensible" to elect him.
"I continue to believe Mr Trump will not be president. And the reason is because I have a lot of faith in the American people, and I think they recognise that being president is a serious job," Obama told reporters after the first ever US-ASEAN Summit in Sunnylands, California.
"It's not hosting a talk show or a reality show. It's not promotion. It's not marketing," he said.
The 69-year-old billionaire real estate tycoon fired back, saying Obama was lucky that he did not run for office in 2012.
"You're lucky I didn't run last time when Romney ran because you would have been a one-term president," Trump said at a campaign rally in South Carolina.
Obama also criticised other Republican candidates.
He said he thinks foreign observers are troubled by some of the rhetoric that's been taking place in these Republican primaries and Republican debates.
"I don't think it's restricted, by the way, to Trump. I find it interesting that everybody is focused on Trump, primarily just because he says in more interesting ways what the other candidates are saying, as well," he noted.
"He may up the ante in anti-Muslim sentiment, but if you look at what the other Republican candidates have said, that's pretty troubling, too," Obama said.
The president said Trump was not the only Republican who raised concerns, but he singled out the real estate mogul as someone who would be singularly unprepared for the responsibilities of the Oval Office.
In an apparent reference to another Republican presidential aspirant Marco Rubio, the Senator from Florida, Obama said there is a candidate who sponsored a bill, which he supported, to finally solve the immigration problem, and he's running away from it as fast as he can.
Observing that all Republican candidates are denying climate change, Obama said he this that's troubling to the international community, since the science is unequivocal.
Other countries around the world, they kind of count on the United States being on the side of science and reason and common sense, because they know that if the US does not act on big problems in smart ways, nobody will, Obama said.
"But this is not just Mr Trump. Look at the statements that are being made by the other candidates. There is not a single candidate in the Republican primary that thinks we should do anything about climate change; that thinks it's serious. Well, that's a problem," said the US president.
Being in the office, he said, is not a matter of pandering and doing whatever will get one in the news on a given day.
"Sometimes it requires you making hard decisions even when people don't like it, and doing things that are unpopular, and standing up for people who are vulnerable but don't have some powerful political constituency," he said.
However, Trump continued to lead in the Republican polls in South Carolina, where the primary is scheduled for Saturday.
In an American Research Group poll conducted this week, Trump was leading by 33 per cent followed by Rubio at 16 per cent.
CNN/ORC in its polls said Trump had support of 38 per cent, while Ted Cruz was at the second spot with 16 points.
In South Carolina, Trump was highly critical of Obama's record in office.
Trump claimed Obama has done a "lousy" job on spending, national defence, healthcare and immigration.
"You look at our budgets, our spending, we can't beat Islamic State, Obama Care is terrible -- we're going to terminate it -- absolutely terminate and replace it," he said.
"You look at everything. Our borders are like Swiss cheese. This man has done such a horrible job, he's set us back so far. For him to say that is actually a great compliment, if you want to know the truth," Trump said.