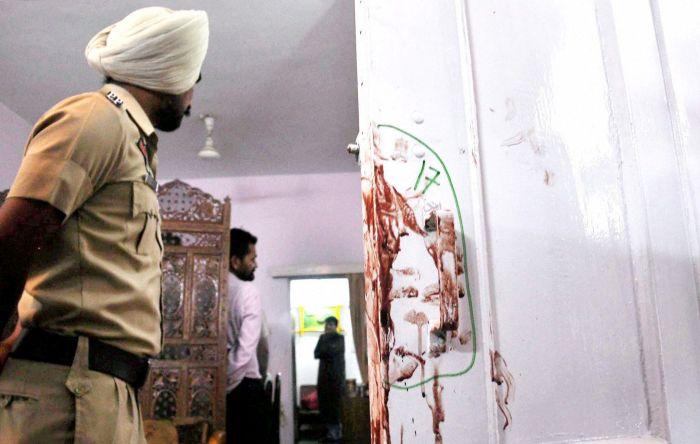 Senior journalist K J Singh and his bed-ridden 92-year-old mother were found murdered at their Phase 3B2 residence in Mohali, on Saturday afternoon.
While 64-year-old Singh's throat was slit and he had stab injury on his body, his mother Gurcharan Kaur was suspected to have been strangled, the police said.
Both bodies were found lying on the beds in their respective bedrooms, the police said. The scribe's body was seen lying in a pool of blood, they added.
The crime scene presented a gory picture as blood had spread to other rooms from the journalist's bedroom, a police official said.
The crime came to light when Singh's sister Yashpal Kaur and nephew Ajay Pal went there with lunch at around 1 pm on Saturday.
"They found both (Singh and his mother) dead," said Mohali Senior Superintendent of Police Kuldeep Chahal.
Singh's car was missing from the house, the SSP said even as he refused to elaborate more on this aspect saying a probe was underway.
The culprits did not touch the gold chain around Singh's neck or a purse containing around Rs 25,000 cash, lying near the bed of his mother, police said.
"The miscreants wanted to give it a robbery angle but it does not seem so. The motive of the criminals was something else," said Mohali SP (Detective) HS Atwal adding that locks of one or two boxes inside the house had been opened.
There was no closed-circuit television (CCTV) in the house, the SSP informed.
Both the victims were living in the house while Singh's six siblings were staying at various places in Mohali and Chandigarh.
The Mohali Police have registered a case of murder but no arrests have been made so far.
Punjab Police's Bureau of Investigation Director Prabodh Kumar along with IGP (Crime) Shashi Prabha Dwivedi visited the spot.
"It's a blind double murder. We have found some clues, which are being studied systematically," said Additional Director General of Police Prabodh Kumar.
Meanwhile, Punjab Police have set up a Special Investigative Team (SIT), headed by IGP (Crime) to probe the murders.
IG (Crime), under whom the SIT will function, has been asked to ensure that all leads are probed and the culprits are nabbed at the earliest, an official spokesman said.
Punjab Chief Minister Captain Amarinder Singh also directed the police to beef up security in the area and take steps to ensure the safety of the ordinary citizens, he added.
Singh, who started his career in journalism as a sub editor with The Indian Express in 1978, had also served The Times of India and The Tribune.
His last job was with The Tribune as chief news editor in 2009.
Meanwhile, mediapersons in Punjab, Haryana and Chandigarh condemned the killing of journalist and his mother and sought immediate arrest of the culprits.
IMAGE: Police team investigating the spot after the murder of senior journalist K J Singh and his mother in Mohali on Saturday. Photograph: PTI Photo