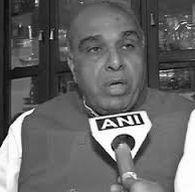 Amid speculation that he was warming up to Bharatiya Janata Party, senior Congress leader from Uttar Pradesh Jagdambika Pal on Friday resigned from Lok Sabha as well as from the party.
Pal, 65, an MP from Dumariyaganj, said, "I met Lok Sabha Speaker Meira Kumar today and tendered my resignation. I have resigned from my Lok Sabha seat as well as from the party."
He said that after serving in Congress for so long, he had been getting a feeling for sometime that he is not being able to put forth his views and suggestions and there was a problem in communication with the leadership.
Seeking to reject the contention that he quit Congress on the eve of Lok Sabha polls as it may be difficult for him to retain his seat on a Congress ticket, Pal said that he had won three Assembly polls and a Lok Sabha election on Congress tickets in UP where the party is out of power since 1989.
"Congress did not come to power in UP since 1989 but I stayed with the party, kept defending its policies. At the age of 65 when I am leaving Congress party, it is not because I want to get something."
"But for sometime I am feeling, which is not only my view but that of many other leaders as well that there is no longer any need for senior leaders like us in Congress," he said.
Without naming Rahul Gandhi, he said that he felt that "the emerging leadership of Congress perhaps does not require senior leaders like me. Senior leaders like me are not being able to communicate, not being able to give their views.
"Their suggestions are not being heard and they are not being given respect. Senior leaders are not being able to communicate with the emerging leadership. Hence, I, who was in the party from my Youth Congress days, decided to quit. What is the point in staying put if I can't command respect and can't even communicate with the leadership," Pal said.
He also mentioned that he had worked in the party from the time of late Indira Gandhi to the period of Sonia Gandhi but the "problem" had arisen now.
Image: Jagdambika Pal
© Copyright 2022 PTI. All rights reserved. Republication or redistribution of PTI content, including by framing or similar means, is expressly prohibited without the prior written consent.