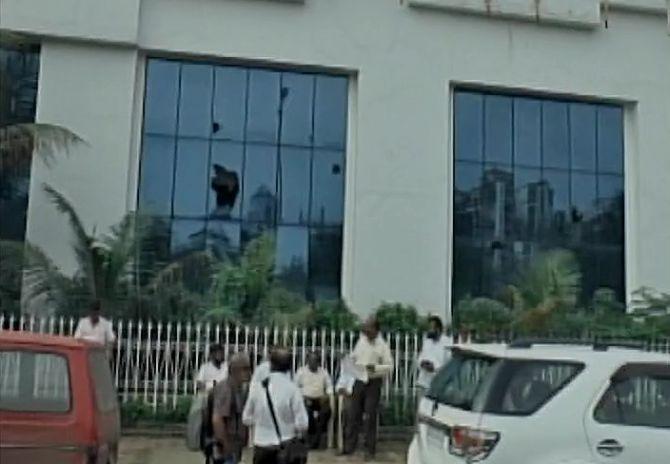 Office of the Shiv Sena mouthpiece Saamana in Navi Mumbai was allegedly stoned on Tuesday over a cartoon published in the daily alluding to the silent marches being taken out by Maratha community across the state.
A pro-Maratha outfit, 'Sambhaji Brigade', claimed the responsibility for the attack.
While Shiv Sena termed the attack as 'deliberate mischief' by some people to create a rift between the Maratha community, its ally Bharatiya Janata Party took objection to the cartoon and demanded public apology from the newspaper.
Opposition Congress and Nationalist Congress Party also sought government action against the Sena mouthpiece for 'hurting sentiments' of the community.
Giving details about the attack, police said three youths came in a vehicle at the Saamana printing press building located at Sanpada in Navi Mumbai at around 1.45 pm.
They called the guard of the press and requested him to take a letter. As the guard was approaching the vehicle, the youths got down, rushed towards the press and allegedly pelted stones damaging glasses on the outer wall of the building and fled, they said.
Police reached the spot and a complaint was lodged by the office-bearers at Sanpada police station.
Navi Mumbai Police Commissioner Hemant Nagrale confirmed the incident. Police said an offence has been registered against the accused and appropriate action will be taken.
On Sunday, a cartoon on 'mook morcha' (silent march) was published in Saamana, which drew flak from political quarters. The Marathas have been organising silent marches across the state following the Kopardi rape and murder incident, in which the victim was a member from the community, while the alleged perpetrators belonged to Dalit community.
A Sena leader requesting anonymity said, "The cartoon had no co-relation with the Maratha community. There are certain people, who want to create a rift within the community members by misguiding them. While doing that, they also got a good opportunity to defame the Sena."
"(Late Sena chief) Bal Thackeray never believed in dividing Marathi speaking people on the basis of caste and creed. For him, all were equal. Thus, we cannot go against his principles to play with the sentiments of the Marathi speaking community. This is a case of deliberate mischief," the leader said.
The Sambhaji Brigade condemned the cartoon and took responsibility of the attack. It also demanded apology from Sena leaders.
Meanwhile, late in the evening, police commissioner Hemant Nagrale informed that a case had been registered with regard to the stone-pelting at Saamana office under sections 336 (act endangering life and personal safety of others) and 427 (mischief causing damage to the property) of the Indian Penal Code.
The first information report identified the accused as Shrikrushna Sawant, Amol Jadhavrao, Manoj Aakhre, Purushottam Khedkar, all office-bearers of Sambhaji Brigade, and others.
The accused would be arrested soon, the police officer said.
IMAGE: The office of Saamna in Sanpada, Navi Mumbai, on which three youth pelted stones on Tuesday. Photograph: ANI