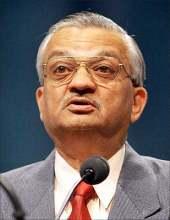 Breaking his silence, Chairman of Bombay Indian Institute of Technology board of governors Anil Kakodkar on Friday said he had resigned because he did not want to be part of the selection process of IIT directors which was "too casual" and "running a lottery".
The noted nuclear scientist also made clear his discomfort with the HRD ministry over the resignation of IIT Delhi Director Raghunath K Shevgaonkar, saying he was a respected academic whose self-respect was "severely hurt" and that he should be allowed to exit honourably.
In an interview to NDTV, he also shared his anguish with what he described as "throwing muck" at him over reports that he was part of the IIT directors' selection process.
"I have not joined back. I am not back on committee. That part is over," he said, adding that HRD Minister Smriti Irani was good enough to call him after he resigned to say she was not accepting it.
He said his term as the chairman of IIT's board of governors was anyway ending in this month and he was connected with other affairs of his job but not selection process.
"The point is you can't be deciding on the choice of 3 IIT directors among 36 in a six or seven hour process. My unease was that the earlier process, everything was set aside. If you set aside everything and you decide like that then you are running a lottery.
"When the process began I had argued but then something happened and everything was set aside. So I had to remain aside. It was too casual a process for such an important activity and I cannot be a party to it," he said.
Kakodkar, however, declined to answer a question on who was to blame for it, saying "Why are you asking me? You know everything... There are good political leaders and there are no-so-good political leaders."
Noting that autonomy enjoyed by IITs have "huge importance", he said the external environment should become a "facilitator".
"This tendency that I am a controller is not right."