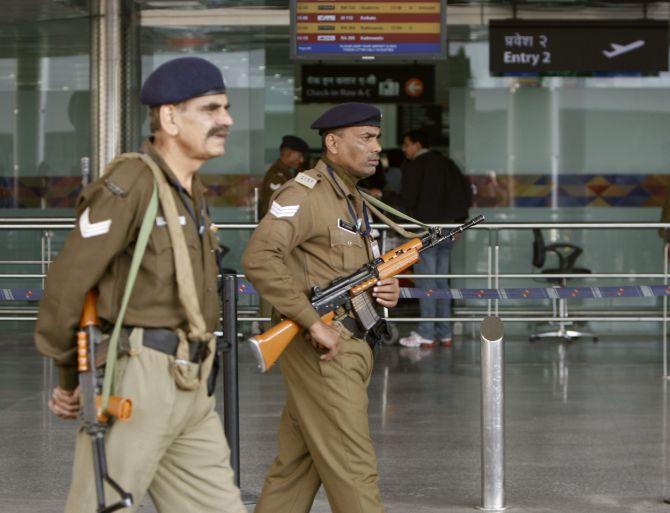 Security personnel at the Netaji Subhas Chandra Bose International airport in Kolkata went into a tizzy on Wednesday after receiving three phone calls threatening to blow up the airport.
While the first two calls were made to Lalbazar Police Control room at around 1.15 am, the third call was made to Bidhannagar Police commissionerate.
Immediately after receiving the first two calls, bomb squad, sniffer dogs along with Central Industrial Security Force team were pressed into action and the entire airport was thoroughly screened throughout the night, a senior police officer said.
However, "nothing was found", he said.
The first call was made to Lalbazar control room at around 1.15 am by a man who said that he had got information that one person named Arshad, a human bomb, was planning to blow up the Netaji Subhash Chandra Bose International airport".
"The call was made from 3615188371. The male voice gave us another no (8697872895) saying that it was Arshad's no. He almost pleaded that a probe be launched quickly," a top officer of Kolkata Police told PTI.
The next call came from another number claiming that a bomb was planted inside the airport and "it will blow off the whole place within minutes, he said.
On Wednesday, another call was made to Bidhannagar Police commissionerate claiming that a bomb has been planted inside a cargo aircraft and "it'll go off any moment", a senior officer said.
"Bomb squad, sniffer dogs are checking the airport while CISF personnel are carrying out special scrutiny of the entire place", he said.
"Every passenger and their luggage is being checked. Vehicles are not allowed to stay near the main entrance for more than two minutes," he said.
Sleuths at Lalbazar said that one of the two numbers was traced to be of Guwahati circle "but was switched off after the call was made to the control".
"We are trying to trace the calls on the basis of its tower locations. Our officers are working on it," the officer said.