Around 2,000 protesters waving Khalistan flags descended upon the Indian High Commission here on Wednesday for a planned demonstration and hurled objects and chanted slogans amid a heightened security presence and barricades.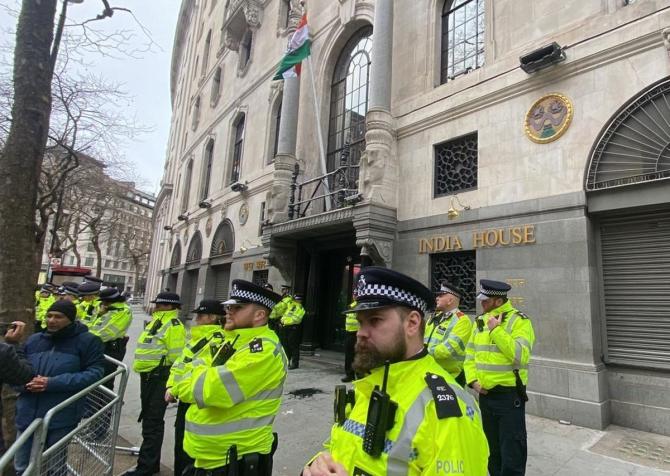 The Indian High Commission countered by unfurling an additional humongous tricolour on the roof of its building, which seemed to rile the protesters further who then hurled coloured flares and water bottles towards the mission building and at police officers and media covering the protest.
Scotland Yard reacted by further blockading the area outside India House and several additional uniformed and mounted officers on horseback were deployed immediately to the area.
Unlike the violent disorder on Sunday when India House came under attack, the protesters were barricaded across the road with uniformed officers standing guard and patrolling the area throughout.
The protesters, including turbaned men, and some women and children, had been bused in from different parts of the UK and chanted pro-Khalistan slogans.
The organisers used mikes to make anti-India speeches and attack the Punjab Police for alleged human rights violations.
The speeches switched between English and Punjabi to make allegations of Indian media bias for calling them fringe elements and backed by Pakistan's spy agency Inter-Services Intelligence (ISI).
Banners for the so-called National Protest , organised by groups such as the Federation of Sikh Organisations (FSO) and Sikh Youth Jathebandia, have been circulating on social media since before a protest on Sunday, which ended in violent disorder at India House.
The Indian government had registered a strong protest over the lack of security measures at its diplomatic mission, which ended in Khalistan flag-waving protesters smashing windows of the Indian High Commission and attempting to pull down the Tricolour.
Since the weekend, several uniformed officers have been patrolling the area in Aldwych and Metropolitan Police vans have been stationed at India Place.
Wednesday's planned demonstration claims to be in response to alleged discriminatory actions of the police in Punjab.
The Indian High Commission in London has been working to counter disinformation circulating around developments in Punjab, related to enforcement action against the separatist group 'Waris Punjab De'.
'Let me assure all our friends here in the UK, especially brothers and sisters with relatives in Punjab, that there is no truth to the sensationalist lies being circulated on social media,' Indian High Commissioner Vikram Doraiswami said in a video posted on Twitter.
'The situation in your ancestral homeland is not what is being reported. The elected chief minister of the state and the local police authorities have put out detailed information, including interviews on television, please watch these. Do not believe the small handful of people putting out fiction and disinformation,' he said.
In an update on the enforcement action since March 18, Doraiswami said that the Punjab Police launched an operation against elements of 'Waris Punjab De' against whom criminal cases have been recorded, in particular against Amritpal Singh, the chief of this organisation.
He added that the constitutional rights to a legal defence for all those arrested will be protected and reiterated that all communication services, including mobile telephone networks and internet, are up and running in the state.
British Sikh MPs, Labour's Tanmanjeet Singh and Preet Kaur Gill, were among those to express concern for their UK constituents with relatives in Punjab.
'Monitoring developments surrounding the Punjab. So many of my constituents are concerned for their loved ones given an internet blackout. Ministers should engage with Indian authorities so UK families who can't reach their relatives regain contact as soon as possible,' Gill tweeted on Sunday.
On being alerted to the violent protest at the High Commission, she added: No one should resort to such attacks. This is unacceptable.
An attempted pull down by the extremists of the Indian tricolour that flies at the Indian High Commission was quashed by an official and has been followed up by an additional larger Tiranga on the main facade.
Several diaspora groups gathered for a We Stand By High Commission of India festive demonstration outside India House in London on Tuesday as a show of solidarity following vandalism.
The Metropolitan Police said its 'enquiries continue' and one person arrested on suspicion of violent disorder has since been bailed to appear in court in mid-June.