A Bharatnatyam exponent, a journalist, a chef, a hotelier and a business executive.
This motley group of gay rights activists came together to change history, succeeding on Thursday in getting the Supreme Court to decriminalise gay sex.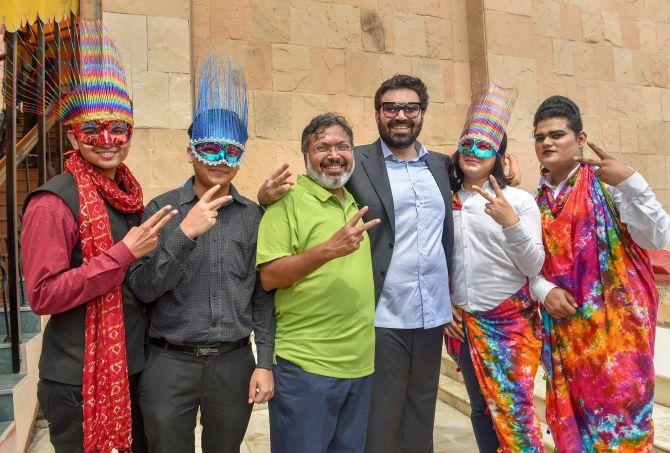 Navtej Jauhar
A dancer and rights activist, Jauhar's legal fight to decriminalise gay sex began in 2016 when he, along with other activists including his partner, filed a petition in the Supreme Court against Section 377 of the IPC which criminalised such relationships.
For years, Jauhar refused to be defined by his sexuality and rose to be a doyen in his chosen profession.
The 59-year-old and his partner, journalist Sunil Mehra, 63 were convinced by a lawyer friend to be at the forefront of the fight.
A Sangeet Natak Akademi awardee, Jauhar in an interview in July said that the couple never planned to be a test case and remarked that he decided to step forward as 'putting a face to the cause helps'.
Sunil Mehra
Not just a well known journalist, Mehra is also an actor and exponent of dastangoi, a 13th-century form of oral storytelling.
In fact, he met his partner Jauhar when he went to write a profile on the Bharatnatyam exponent.
The two have been together for over 25 years.
While neither he nor his partner initially planned to play an active role in the battle to decriminalise gay sex, in 2016 when Menaka Guruswamy, a constitutional lawyer friend, suggested it was time to give a human face to the 20-year-old legal battle they acquiesced.
Since then Mehra has been the face of the war to legalise same sex love.
Ritu Dalmia
It was a 2013 statement from Supreme Court Justice GS Singhvi that he had never "met a gay person" which spurred celebrated chef Ritu Dalmia to take on activism to decriminalise gay sex.
On Thursday as the Supreme court took the historic decision, Dalmia was quoted in a news website as saying, "a smile stuck on my face. This is a moment of relief".
Born in Kolkata to a Marwari business family, she joined her family business of marble stone at the age of 16.
In 1993, at the age of 22 she started her first restaurant.
She is the chef and co-owner of the popular Italian restaurant Diva in Delhi, which she established in 2000, with co-founder Gita Bhalla under partnership firm "Riga Food".
Aman Nath
Nath, 61, is a well-known writer and architectural restorer.
He is also the co-founder and co-chairman of India's famous boutique chain of heritage hotels the Neemrana Group, along with his partner late Francis Wacziarg.
The couple has an adopted daughter named Aadhya Nath.
Born and brought up in New Delhi, Nath completed his education with a post-graduate degree in medieval Indian history from Delhi University.
Keshav Suri
33-year-old Keshav Suri is an executive director of The Lalit Suri Hospitality Group.
He is son of the late hotelier, Lalit Suri who was the founding chairman and owner of Bharat Hotels, which runs the famous Lalit Suri Hospitality Group.
The group's night-club, Kitty Su, a brain-child of Keshav himself, works towards an inclusive society and is known for offering employment to differently-abled and LGBTQI community members.
Suri in his petition in court has said he is in a committed relationship with another adult man for nearly a decade.