It has taken 51 days to reach a daily caseload of 84,000 from 11,000, as against 85 days taken in the first wave, report Abhishek Waghmare and Sohini Das.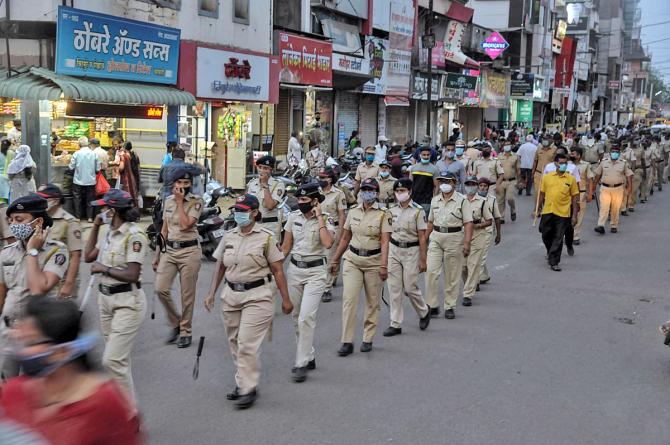 Contrary to popular perception, the second wave of Covid-19 is as virulent with a potential to turn deadlier than the first wave, an analysis of deaths in recent weeks shows.
Deaths due to Covid-19 usually happen two to three weeks after the diagnosis of the disease, according to research and doctors' accounts. The delayed case fatality ratio (CFR) used here essentially measures deaths reported on a particular day as a share of cases reported 18 days prior.
While the cumulative case fatality rate for the country has dropped to 1.3 per cent, the current CFR is inching up, according to a Business Standard analysis of data from covid19india.org, a crowd-sourced repository.
India's delayed CFR has now risen to 1.7 deaths per 100 cases, almost equal to that seen in September 2020, the peak of the first wave. For Maharashtra, the most badly affected state, the delayed CFR is rising, but is still lower than that observed in the first wave due to a higher degree of cases detected as a result of increased testing.
But for Delhi, the national capital, the picture appears to be worsening. The delayed CFR has breached 2.6 per cent, a level not seen even in the peaks of 2020. The city-state has now imposed a night curfew to check the spread.
Punjab is also one of the most affected states, and the one where the highly infective UK variant (B.1.1.7) was found in a large proportion. Here, the delayed CFR is as high as 3.4 per cent as on April 5. In fact, it had gone up to 5.7 per cent in the third week of March.
According to data, the second wave is 1.7x times faster than the first wave; in other words, it has taken 51 days to reach a daily caseload of 84,000 from 11,000, as against 85 days taken in the first wave.
These analyses suggest that the situation is not at all better but, in fact, it could result in more deaths in less time, putting greater pressure on the health infrastructure than last year.
Doctors and experts said that several factors are responsible for Covid deaths, including delays in detection, the nature of treatment, and the age of the infected person. Some also said that less severe symptoms are being observed this time around.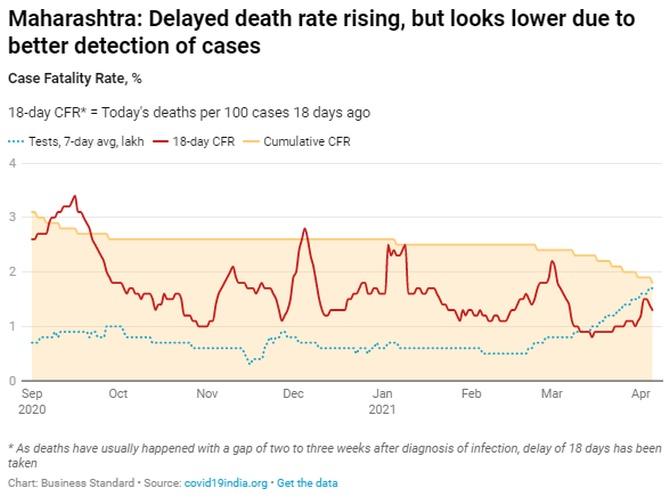 Mumbai-based pulmonologist Agam Vora, who has also published a white paper on the use of anti-parasite drug ivermectin to treat Covid-19, said that there was no typical duration for the disease to lead to death. "It depends on a person's immunity. For some it could be 10 days, for others it could be higher. It also depends on at what stage the disease was detected," he said.
Studies have found deaths to take place between 12 and 22 days of detection.
Covid-related mortality is a tough nut to crack, said K Srinath Reddy, president, Public Health Foundation of India. Though death may occur about two to three weeks after symptoms first appear, the young might fight longer, and the elder patients may succumb sooner, he said. Reports suggest that youngsters are getting hospitalised to a higher degree in the second wave.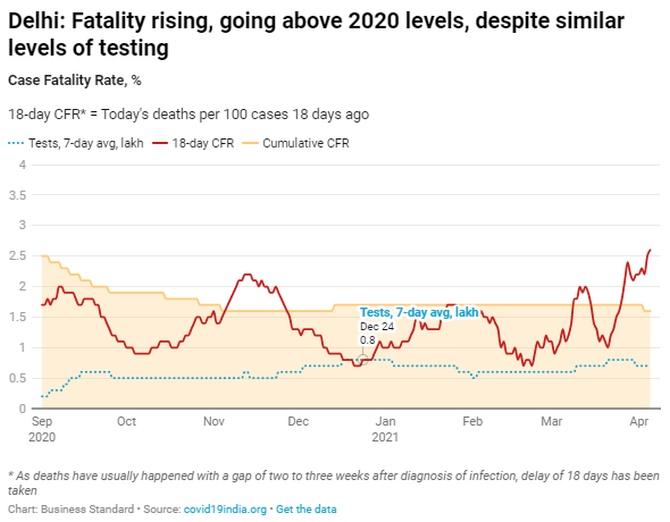 "Deaths are rising indeed, but we ought to see deaths among the hospitalised to get a fuller picture of how deadly the current surge is," he told Business Standard.
Dr Satyanarayana Mysore, lung transplant physician at Manipal Hospitals and member of Karnataka's Covid-19 task force, said that early detection plays an important role in averting deaths. "State governments need to re-activate fever clinics for early detection. There is fatigue setting in, the scare is down and early detection needs more than just a lockdown."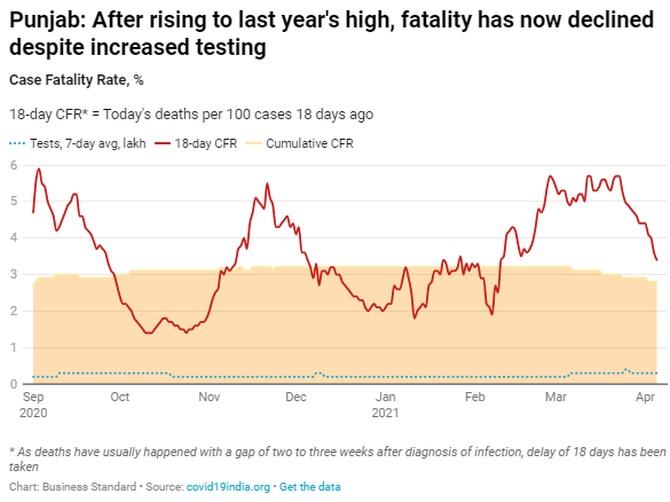 He added that delay in getting the right therapy -- steroids, antivirals like Remdesivir -- can also increase mortality.