Violence and arson spilled over to the national capital from neighbouring Haryana after self-styled godman Guru Ram Rahim's conviction in a rape case, forcing the Delhi police to clamp down prohibitory orders.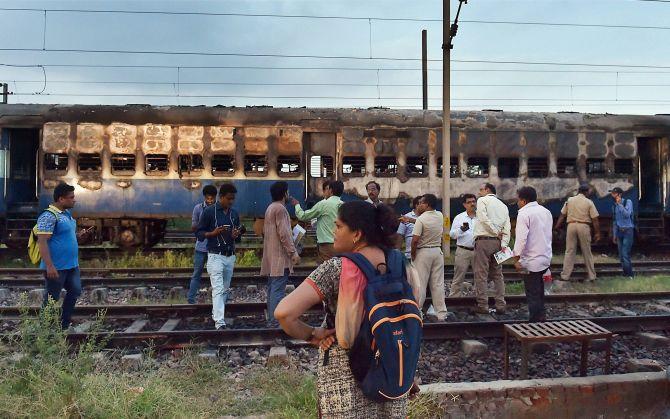 Image: A train coach in Anand Vihar station in New Delhi, vandalised following Dera Sacha Sauda chief Gurmeet Ram Rahim's conviction on Friday. Photograph: Shahbaz Khan/PTI Photo.
The prohibitory orders would be in force till September 8, a senior police officer told PTI.
"As a preventive measure, we have enforced Section 144 of the CrPC in Delhi in 11 police districts," said SBK Singh, special commissioner of police (Law and Order, North).
The national capital has 13 police districts. North and central districts will not fall under the ambit of the orders, since no incidents were reported from there, the officer said.
Section 144 of the Criminal Procedure Code (CrPC) of 1973 empowers an executive magistrate to prohibit an assembly of more than four people in an area.
In a tweet, he also assured Delhiites about adequate security arrangements being in place.
"All SHOs, ACsP, DCsP and Jt CPs are patrolling the area to prevent any kind incident which may arise due to Ram Rahim followers in Delhi (sic)," he posted on Twitter.
Fire department officials said shey received calls about fires from Khyala, Badarpur, Manglapuri, near Babu Jagjivan Ram Hospital, Mandoli, Mehrauli, Samaypur Badli, Anand Vihar railway station and other parts of the city.
Lieutenant Governor Anil Baijal directed the city police commissioner to take effective measures to ensure peace. Chief Minister Arvind Kejriwal issued an appeal for peace.
Incidents of arson targeting buses were reported from several parts of the city.
Delhi police's Public Relations Officer Madhur Verma said five "miscreants" were arrested for allegedly attempting to set buses ablaze in Badarpur and Khyala areas.
He said cases have been registered and it was suspected that these people were followers of Dera Sacha Sauda chief. The police have procured CCTV footages for further probe.
Delhi police officers are on a night vigil, he said.
Two buses were set ablaze by a mob at the Loni Golchakkar in northeast Delhi at 4.30 pm. A crowd of 1,000 people had reportedly gathered, said KS Dhatwalia, DG, PIB.
The police said some people pelted the bus with stones, when it was coming from Bhajanpura, and as the driver and the passengers fled, they set it ablaze.
A fire also engulfed two coaches of the Rewa Express stationed at the Anand Vihar railway Station. Railway officials said it was not immediately clear if it was a case of arson and that investigations were underway.
The police said they arrested one persons in connection with an attempt to torch a DTC bus in Badarpur. He also attempted to set ablaze a cluster bus, they said, adding he is suspected to be a sympathiser of Ram Rahim.
Around 4.40 pm, the police were informed about two suspected followers of the godman setting afire a cluster bus in west Delhi's Khyala. The fire was doused by 5.06 pm and no one was injured, police said, adding two men were arrested with as many bottles of kerosene.
In a tweet, Delhi Police Commissioner Amulya Patnaik assured the citizens of police being at their service.
"Adequate police arrangements in place & Law & Order situation under control. Officers with reserve force on rounds to maintain peace.
"Appeal to all to maintain peace & order. #DelhiPolice on full alert. Strict legal action will be taken against miscreants for any violation (sic)," he posted on Twitter.
A special CBI court in Panchkula, Haryana, today found the Dera Sacha Sauda chiefguilty in a 2002 rape case, triggering a law and order situation in the state.