"Keep working hard so you can contribute to your country," this was the message by China's First Lady Peng Liyuan to the students as she interacted with the children, even humming a song with them.
During her 45-minute visit to a school in South Delhi, 51-year-old Peng, who is also a renowned singer, shared with the students some personal glimpses of her life, leaving a lasting impression on the young minds.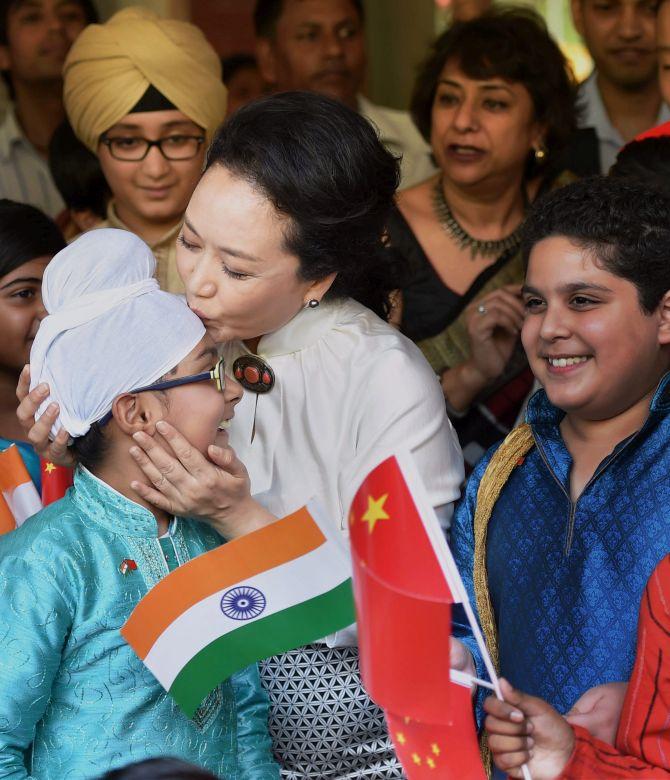 Peng Liyuan kisses a student during her visit to Tagore International School. Photograph: PTI photo
"I started learning calligraphy when I was young and as little as 5 years old. I was instructed by my father," she said while applauding the lessons on yoga imparted by the school.
Peng also had words of appreciation for Indian women. "She (Peng) told me that she had a lot of respect for Indian women. They are beautiful, hard-working and can keep the family together," Meenakshi Sen, principal of TagoreInternationalSchool, said quoting Peng.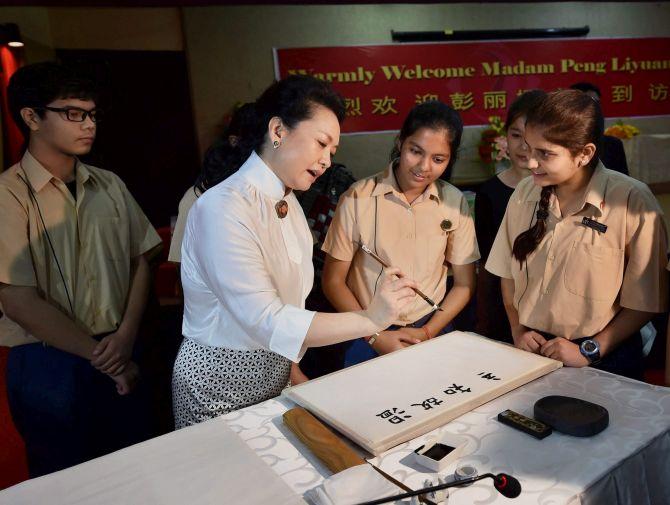 Peng Liyuan writes out a message to the students in Chinese calligraphy. Photograph: PTI photo
Peng left a handwritten message for students with her stamp on it. "It is my genuine wish that our dear students who are here today should keep learning and working hard so you can contribute to your country. It is important to lay a solid foundation in terms of knowledge base since one is young," she said.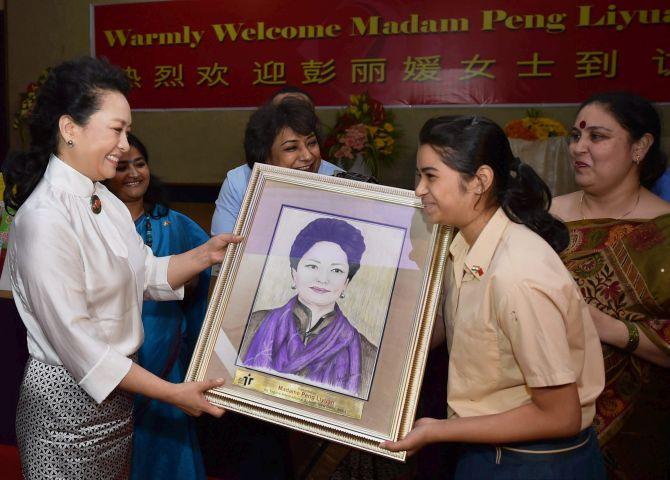 Students of the school present China's First Lady with a sketch of her. Photograph: PTI photo
But what floored everyone was the First Lady joining the students as they sang a popular Chinese folk song. "While we were singing, she joined us and started humming," said a student Pihu Bharadwaj.
"She said that she knew the song and it was very popular back in China," said Sen.
The visit saw students of Tagore International School and its partner school Jinyuan Senior High School in Shanghai jointly performing Tai-chi, a traditional Chinese martial art, and yoga through video-link.
Peng poses with the students at the end of her hour-long visit. Photograph: PTI photo