Champions League competitors Schalke 04 have signed AC Milan midfielder Kevin-Prince Boateng on a four-year deal after the Ghana international passed his medical at the German club on Friday.
"I am delighted to be back home in Germany," Germany-born Boateng told reporters.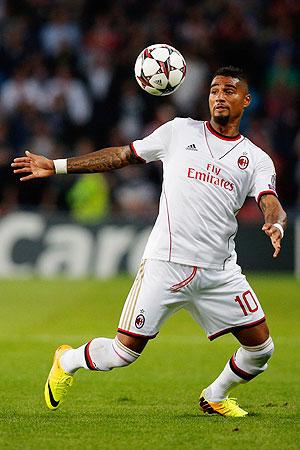 "It is one of the best leagues in the world."
"The first contact was made a year ago but sometimes you have to wait a bit longer for the good things and opportunities."
The 26-year-old, who has also played for Hertha Berlin, Portsmouth and Tottenham Hotspur and is the half brother of Bayern Munich's Jerome Boateng, joined Milan in 2010.
Prior to that he caused considerable controversy with a foul on Chelsea's Michael Ballack in the 2010 FA Cup final, that forced the now retired Germany captain to miss the World Cup and triggered angry reactions among the country's hardcore fans.
"He has collected a lot of international experience and will help us a lot," Schalke coach Jens Keller told reporters.
"He can play as early as tomorrow. I have already an idea of how to deploy him."
On Wednesday Boateng scored twice in AC Milan's 3-0 win over PSV Eindhoven to help the Italian side reach the Champions League group stage.
Schalke, who signed defender Dennis Aogo on loan from Hamburg SV on Wednesday, stamped their group stage ticket this week, beating Greece's PAOK 4-3 on aggregate. They will face Chelsea, Basel and Steaua Bucharest.
Photograph: Dean Mouhtaropoulos/Getty Images