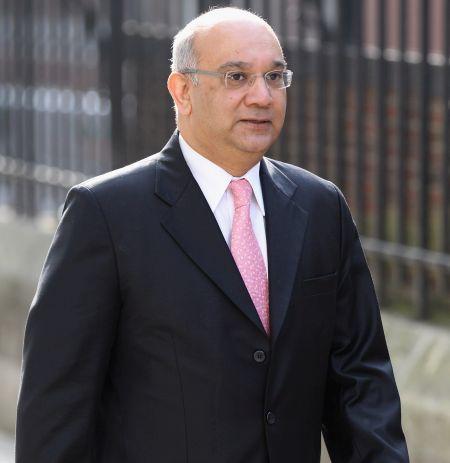 Britain's longest serving Indian-origin Labour MP Keith Vaz on Tuesday resigned from his post as chair of the influential House of Commons Home Affairs Select Committee in the wake of being embroiled in a sex scandal.
The 59-year-old influential lawmaker has served as chair of the committee for over nine years but told its members at a meeting today he was "genuinely sorry" over recent events but added that "those who hold others to account must themselves be accountable".
"It is in the best interest of the Home Affairs Select Committee that its important work can be conducted without any distractions whatsoever. I am genuinely sorry that recent events make it impossible for this to happen if I remain chair," he said in a statement.
"Those who hold others to account must themselves be accountable... I told the committee today of my decision to stand aside immediately from committee business, and my intention to resign. This is my decision, and mine alone, and my first consideration has been the effect of recent events on my family," Vaz said.
His resignation follows allegations published by the 'Sunday Mirror' tabloid that the married, father of two, had met two male prostitutes from eastern Europe at his London flat last month.
The high-profile politician is also alleged to have told the escorts to bring the party drug known as "poppers" and is also quoted as discussing the possibility of paying for cocaine at a future meeting, but added that he would not take the drug himself.
Vaz has recommended that Tim Loughton MP, a senior Conservative party member, chair the committee's proceedings before a formal election of a new chair can take place.
"After speaking to the House authorities, I will formally tender my resignation to Mr Speaker so that it coincides with the timetable for the election of other committee chairs, such as the Brexit Committee; Culture, Media and Sport; and Science and Technology, so that the elections can take place together," the statement said.
He still faces the prospect of a possible investigation by the House of Commons' watchdog over the tabloid allegations after he was referred to the UK's Parliamentary Commissioner for Standards, Kathryn Hudson, by Conservative MP Andrew Bridgen on Monday.
Vaz -- who was born to Goan parents in Aden, Yemen, in 1956 and went on to study law at Cambridge University -- has been Labour party MP from Leicester East since 1987 and served as minister for Europe in former prime minister Tony Blair's cabinet, becoming the first Indian-origin minister to occupy a senior cabinet portfolio at the time.
The Labour party, meanwhile, seems to be standing by Vaz, with party leader Jeremy Corbyn indicating there is no need for him to stand down from the party.
Corbyn said: "Well, he hasn't committed any crime that I know of. As far as I'm aware it is a private matter, and I will obviously be talking to Keith."
British Prime Minister Theresa May told reporters on the sidelines of the G20 summit in China on Monday that voters must be able to have "confidence" in their politicians, adding: "What Keith does is for Keith, and any decisions he wishes to make are for him".
Bridgen, who represents North West Leicestershire constituency which neighbours Vaz's Leicester East constituency, has since received a letter from law firm Howard Kennedy accusing him of "maliciously spreading false and highly defamatory scuttlebutt" about Vaz.
Vaz, the long-serving lawmaker, was one of the most influential members of the House of Commons through his work on a committee that deals with law and order issues.
His sister, Valerie Vaz, is also a sitting Labour MP from Walsall South and his wife, Maria Fernandes, is a practising lawyer.