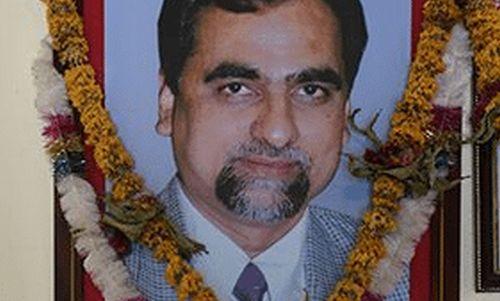 The Supreme Court on Monday dubbed as "serious" the issues raised in the pleas relating to the death of special Central Bureau of Investigation judge B H Loya, but castigated a senior lawyer for casting aspersions on Bharatiya Janata Party president Amit Shah in the case.
The apex court, which expressed anguish over senior advocate Dushyant Dave dragging the name of Shah and others including a former chief justice of Bombay high court, said "as of today, it (Loya's death) is a natural death".
During the over an hour long hearing in a packed courtroom which witnessed heated exchanges among some lawyers, the top court said it would examine all documents related to Loya's death "objectively" and with "utmost seriousness".
Loya, who was hearing the sensitive Sohrabuddin Sheikh fake encounter case, had allegedly died of cardiac arrest in Nagpur on December 1, 2014, when he had gone to attend the wedding of a colleague's daughter.
In the Sohrabuddin case, the BJP chief, along with Rajasthan Home Minister Gulabchand Kataria, Rajasthan-based businessman Vimal Patni, former Gujarat police chief P C Pande, Additional Director General of Police Geeta Johri and Gujarat police officers Abhay Chudasama and N K Amin, were earlier listed as accused.
Later, special judge M B Gosavi, who took over the trial of the case, had discharged Shah and some other accused.
The issue of Loya's death had come under the spotlight in November last year after media reports quoting his sister had fuelled suspicion about the circumstances surrounding his death and its link to the Sohrabuddin case. But Loya's son had on January 14 said in Mumbai that his father had died of natural causes.
On Monday, the top court took umbrage at senior advocate Indira Jaising for inferring a possible gagging of the media in the case.
This irked the bench headed by Chief Justice Dipak Misra, which demanded that Jaising withdraw her submission immediately and tender an unconditional apology.
"This is very unfair, madam. Have I uttered any single word with regard to gagging the media? Have I passed any order with regard to restraining the media? In other case (Padmaavat film) also I have said that there will be no gag order on media. No, madam. You please and should withdraw the statement and apologise," the Chief Justice said.
Jaising promptly tendered an unconditional apology.
The CJI said Jaising was asked to tender an unconditional apology to the court as she had inferred that "we will pass order for gagging the media from reporting the case."
The bench said it is a "serious issue" and the court cannot go by media reports, but rather have its own analysis after going through all the documents of the case.
"This is a serious issue in which a district judge has died. We have seen the petition and have also gone through various media reports. We cannot base our reasoning on these reports unless we have relevant materials before us. Let entire material come before us and everyone must assist us to examine the documents objectively," the bench, also comprising Justices A M Khanwilkar and D Y Chandrachud, said.
The top court assured the lawyers that if the need arose, "it may order an inquiry into the incident".
The bench restrained other high courts from entertaining any petition with regard to Loya's death and transferred to itself the petitions pending before the Bombay high court. It posted the matter for further hearing on February 2.
At the outset, senior advocate Harish Salve, appearing for Maharashtra, produced statements of four district judges, two of whom have been appointed as judges in Bombay high court, saying Loya died of heart attack and it was they who had taken him to hospital on the morning of December 1, 2014.
Dave, appearing for Bombay Lawyers Association, said the documents produced by the Maharashtra government are incomplete and there were RTI records which show that Loya's security was withdrawn on November 24, 2014.
"There were suspicious circumstances with regard to the death of judge Loya. Why was Loya's family not invited to take his body from the hospital," Dave asked.
"One judge was transferred, another was murdered and third judge discharged Amit Shah. There are serious contradictions. People should know the truth," he argued.
"The entire system is trying to protect one man. Amit Shah and Amit Shah alone is the beneficiary. Mr Salve's (earlier) client is a politician par excellence and there is no doubt about that. The country has the right to know everything. Senior advocate Mukul Rohatgi, Salve and another senior lawyer Pallav Shishodia have all appeared for Amit Shah. There should be no gag on the media," Dave said.
In response, the bench said "as of today, it is a natural death. Then, do not cast aspersions," as it considered a strong opposition on the issue by Salve.
During the hearing, Dave also objected to Salve appearing for Maharashtra government saying he had earlier appeared for Shah, a Rajya Sabha MP, in the case and "now switched sides".
"This is a serious case of conflict of interest. This matter calls for judicial indulgence as there are serious contradictions," Dave alleged, leading to heated exchanges between him and Salve.
Senior advocate Mukul Rohatgi, also appearing for Maharashtra in another connected PIL, said Dave cannot address the court as no intervention can be allowed in this case.
The bench then intervened and said, "Let us not allow the matter to be deflected by referring to conflict of interest. Who should appear for whom is left to the Bar's conscience. We are not the Bar Council. We cannot stop you. Parties should file all the records of the case".
Dave said Loya's father and sister had sought an independent inquiry into the incident. He also questioned the manner in which then Bombay high court chief justice (now retired) had called Loya's son to his chamber before the youngster made a statement that he does not want any probe.
"There is nothing to hide for us. Let us exchange the documents. But the documents filed by the state government should be kept for the eyes of advocates appearing for parties only and should not be circulated to the media," Salve said.
Jaising and Dave took serious objection to this and said the entire nation wanted to know what has happened.
The apex court was hearing two PILs filed by Congress leader Tehseen Poonawalla and Maharashtra based journalist B S Lone seeking independent probe into Loya's death.
Four senior-most apex court judges -- Justices J Chelameswar, Ranjan Gogoi, M B Lokur and Kurian Joseph – at their January 12 press conference had questioned the manner in which sensitive cases were being allocated and Loya's case was one of them.
© Copyright 2023 PTI. All rights reserved. Republication or redistribution of PTI content, including by framing or similar means, is expressly prohibited without the prior written consent.