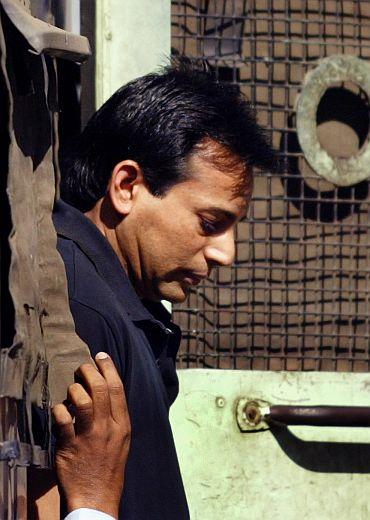 The Supreme Court on Friday dismissed the appeal of underworld don Abu Salem challenging his conviction and seven-year jail term for possessing fake passport.
A bench of justices F M I Kalifulla and S K Singh rejected the appeal filed by Salem in which he contended that he was wrongly convicted. Salem, 46, was convicted and awarded seven-year rigorous imprisonment by a special Central Bureau of Investigation court in Hyderabad in a fake passport case in 2013.
He was held guilty under different sections of Indian Penal Code for obtaining a passport under a fictitious name and address from Kurnool district of Andhra Pradesh. Salem had procured the fake passport under the fictitious identity of Ramil Kamil Malik by submitting forged documents to the Hyderabad Regional Passport Office in connivance with some government officials and private persons in 2001.
Salem had obtained three passports -- one for his first wife Sameera Zumani, another for his companion and actor Monica Bedi and a third for himself. Salem and Bedi were extradited to India on November 11, 2005, after a marathon legal process lasting three years.
The fake passport case was transferred to the CBI from the AP police in October 2002, and a charge sheet was filed in 2004 against 10 accused. His former girlfriend has already been convicted in fake passport case and spent around two-and-half years behind bars as punishment.
The apex court in 2010 had upheld the conviction of Bedi in the case but reduced her sentence to period of jail term she had already undergone. She was awarded five years sentence by a sessions court in Hyderabad but it was reduced to three years by the Andhra Pradesh high court.