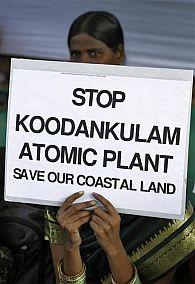 Expressing unhappiness over the Supreme Court order which gave the green signal for commissioning of the Kudankulam Nuclear Power Plant, anti-nuclear activists on Monday termed the decision as "unjust" and said protests will continue.
"The Supreme Court judgement is unjust," M Pushparayan, one of the leaders of People's Movement Against Nuclear Energy (PMANE), which is spearheading the stir against the plant commissioning, told PTI.
"We did not file the case directly. Our supporters 'Poovulagin Nanbargal' (friends of earth) filed the case". Our protests would continue, he said.
Asked about PMANE's future course of action, he said, "We will talk to our supporters and soon chalkout a plan of action."
PMANE coordinator S P Udayakumar was not immediately available for a comment.
Senior officials at KNPP welcomed the verdict and said work was already on full swing for commissioning of the plant.
"We are yet to receive the copy of the order. But prima facie, it is welcome," KNPP Station Director R S Sundar told PTI over phone.
Asked about the status of preparatory work at the first unit of KNPP, he said "We have already submitted our applications to Atomic Energy Regulatory Board and the review is presently going on. We are sure that our work will get sanction from AERB soon."