Hadiya told the court she wanted to go with her husband Shafin Jahan and wanted 'freedom' to live and profess Islamic faith.
IMAGE: 24-year-old Hadiya leaves the Supreme Court after a hearing in the 'Kerala love jihad' case on Monday. Photographs: Manvender Vashist/PTI Photo
The Supreme Court on Monday freed a Kerala woman, alleged to be a victim of 'love jihad', from the custody of her parents and sent her to college to pursue her studies, even as she pleaded that she should be allowed to go with her husband.
After a prolonged proceedings in the open courtroom, the top court did not accede to Hadiya's plea that she should be allowed to go with her husband.
She also told the court she wanted 'freedom' to live and profess Islamic faith.
The apex court, which interacted with 25-year old Hadiya for nearly half-an-hour in the courtroom against the wishes of her father who had sought an in-camera interaction, directed the Kerala police to provide her security and ensure that she travelled at the earliest to Salem in Tamil Nadu to pursue homepathy studies at SivarajMedicalCollege there.
Hadiya was in the custody of her parents for almost six months, after the Kerala high court had on May 29 annulled her nikah with Shafin Jahan.
Hadiya, a Hindu by birth, had converted to Islam several months before her marriage.
The court fixed the plea of Jahan, challenging Kerala high court's order annulling his marriage with Hadiya, for hearing in the third week of January next year.
A bench headed by Chief Justice Dipak Misra also appointed the dean of the college as her local guardian and granted him liberty to approach it in case of any problem.
The bench, also comprising Justices A M Khanwilkar and D Y Chandrachud, directed that Hadiya should be treated as any other student in the college.
The top court also acceded to the request of Hadiya that she be first allowed to visit her friend's home as she has been mentally harassed for past 11 months and allowed her to visit her friend before going to Salem to attend college.
Hadiya, when asked by the bench to name any nearest relative or acquaintance at Salem to be named as the local guardian, said she only needed her husband in that role.
She said her husband can take care of her expenses of studies and she does not need state's expenses to pursue her professional course.
The bench posed questions in English, while Hadiya replied in Malyalam, which was translated by senior advocate V Giri who appeared for Kerala government.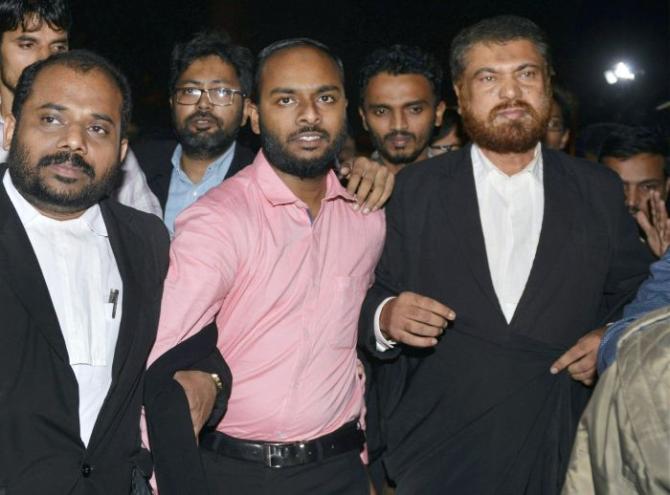 IMAGE: Shafin Jahan, husband of Hadiya, leaves after appearing in the Supreme Court.

During the hearing, which continued for almost two-and-half hours till 5.30 pm, Hadiya's parents, her in-laws and her husband were present in the packed courtroom.
The bench asked questions about her ambitions, life, studies and hobbies, which she replied comfortably and said she wanted to do internship of house surgeonship, a course of 11 months and wanted to stand on her own in life.
The court directed the college and the university to re-admit Hadiya and grant her hostel facilities.
At the outset, senior advocate Shyam Diwan, appearing for Hadiya's father Asokan K M, said his daughter should be questioned in-camera as this was a case of indoctrination backed by huge organisational support.
He claimed there was a highly communally charged atmosphere which could have wider ramifications and insisted on his plea for in-camera proceedings.
Diwan also placed an alleged transcript of conversation between one alleged offshore Islamic State handler and Hadiya's husband, saying it showed that Jahan had links with an organisation called Popular Front of India and a larger conspiracy of indoctrination was happening on the ground.
He said in social networking sites, there was a conversation between one Abdul Rashid and Jahan in which he has been found asking how much money he can get to make a person join the ranks of the IS.
Additional Solcitor General Maninder Singh, appearing for the National Investigation Agency, said there were compelling evidence to show a well-oiled machinery which indulges in indoctrination and conversion.
"NIA's job was to give solid facts and it has been found during investigation that 11 cases were detected by Kerala police and seven such cases involved the same organisation and person.
"The real question is how to establish whether a person is indoctrinated, brain-washed or programmed due to which his or her individual autonomy is compromised," Singh said.
Senior advocate Kapil Sibal, appearing for Jahan, said this audio recording was nothing new and was being in circulation for past one year.
"What indoctrination? She has been with her parents for past 11 months. National Commission of Women, NIA all interrogated her but state commission for women was not allowed. She is entitled to speak her mind and has her own individual autonomy and the court should hear her," Sibal said.
The bench initially said it would first decide whether to interact with her first and then peruse materials of NIA or first peruse the material and then hear her.
"It is a question of what comes first. We have to decide that first. Her father says it is a larger conspiracy but this is also a matter between two adults. Would this case not have the bearing on other cases," the court observed.
Justice Chandrachud posed at what stage the autonomy of an individual is breached, what could be the impact and at what time can the court intervene.
He also referred to the 'Stockholm syndrome' where a person, who is a hostage, starts believing in his kidnappers.
"Although this is not your case, but in such cases there is a free consent of person who is major, but due to this syndrome, he can't take decisions freely. His individual autonomy is broken," Justice Chandrachud said.
The Kerala government said the court should first peruse the materials and then talk to the woman.
"The sequence has to be different at the appellate court. We as a state deal with this scenario everyday at ground level. The court should first look into the material and then talk to her," Kerala counsel Giri said.
To this, the bench said, "We are under oath to protect the constitutional values. Constitution does not give us the power to abdicate from hearing a case. We are trying to figure out a way to proceed. We don't see such cases every day."
The bench then called Hadiya and asked questions while making it clear that case will be heard on merits in the third week of January.
'Hadiya's statement cannot be taken at face value'
Hadiya's statement cannot be taken at its face value, said her father's lawyer Rajendran, claiming that her mental stability was doubtful and that she was made to say so.
"Whatever Hadiya is saying cannot be accepted at its face value because she was made to say so, and that is our impression," Rajendran told reporters and added that her behaviour with her parents has not been normal, which has raised doubts about her mental well-being.
The lawyer also said Jahan was not Hadiya's husband as it has already been proven in the high court that all marriage documents were fabricated.
With ANI inputs.
© Copyright 2021 PTI. All rights reserved. Republication or redistribution of PTI content, including by framing or similar means, is expressly prohibited without the prior written consent.