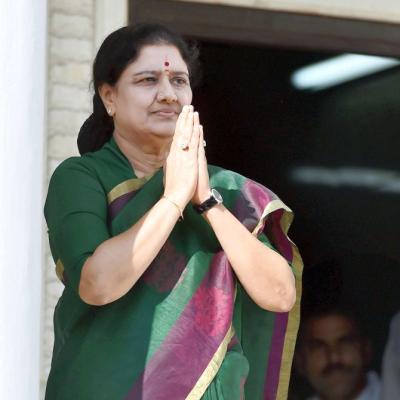 Amid continued uncertainty over the swearing-in of V K Sasikala, the feud in Tamil Nadu's ruling party escalated on Friday with the chief ministership aspirant sacking party presidium chairman E Madusudanan, who wrote to the Election Commission not to recognise her as All India Anna Dravida MUnnetra Kazhagam general secretary.
Sending a strong message to her detractors, Sasikala sacked Madusudanan from the primary membership of the party, a day after he switched over to the rebel camp led by caretaker Chief Minister O Panneerselvam, and appointed former minister K A Sengottaiyan in his place.
Sengottaiyan was relieved as the party's Organisation Secretary, a post to which he was appointed last week.
Sasikala urged the party workers not to have any truck with Madusudanan and said that they should extend their cooperation to Sengottaiyan.
Madusudanan, however, claimed he infact had sacked party interim general secretary V K Sasikala and continued to be the party's Presidium Chairman.
"Before that (his sacking), I expelled her (Sasikala) from the party," he told reporters tonight when asked about his removal from all party posts, including Presidium Chairman and primary membership, by Sasikala.
Flanked by a smiling Panneerselvam and other leaders, Madusudanan announced that an election will soon be held for the post of party general secretary, adding the chief will be elected by the party cadres.
"Very soon, election for the post of AIADMK general secretary will be held, the date will be announced soon," he said.
He said a "property protection committee" to protect the assets of former chief minister late J Jayalalithaa will be "announced soon at the general council."
In an indication that political situation was becoming more complicated, more AIADMK leaders from several regions, including former union minister E Ponnusamy, joined the ranks of Panneerselvam.
Giving a major boost to the rival camp, Madusudanan on Thursday extended his support to Panneerselvam, saying he wanted to "safeguard" the party.
"To protect the AIADMK, everybody should join hands with OPS (Panneerselvam)," he had said.
Sasikala had removed Panneerselvam from the treasurer post immediately after his revolt, but he has maintained that being a temporary general secretary, she does not have the powers to appoint or remove party functionaries. Insisting that he continues to be the treasurer, Panneerselvam has written to banks not to allow anybody else to operate the party accounts without his consent.
Sasikala had appointed another senior leader Dindigul C Srinivasan as the treasurer.
Hitting back at Sasikala, Madusudanan has written to the poll panel urging it to not to recognise her as AIADMK general secretary, saying she was not elected to the post as per party by-laws.
Madusudanan told reporters about the letter shortly before he was sacked from AIADMK by Sasikala for "acting against the party".
Asserting that only cadres can elect a general secretary as per party rules, Madusudanan said he had asked the EC not to recognise Sasikala as party chief.
Expelled AIADMK Rajya Sabha member Sasikala Pushpa has already petitioned the EC against the election of V K Sasikala, saying it was not done as per procedure and the EC has sought the party's response to it.
"As per party by-laws, the general secretary can be elected only by cadres. As per rules, there is no temporary General Secretary post," Madusudanan said.
A candidate for the general secretary's post should also have completed at least five years in the party.
"Since Sasikala re-joined the AIADMK only on March 31, 2012, she does not qualify to become general secretary. I have requested Election Commission not to accept her appointment," he said.
Meanwhile, a section of AIADMK MLAs owing allegiance to Sasikala have dismissed media reports and allegations by the Panneerselvam camp that they have been "detained" at a resort near Chennai, and asserted that they were "free".
V C Arukutty, MLA from Kavundampalayam in Coimbatore and a supporter of Panneerselvam, alleged that the MLAs had been "detained" and were "not reachable."
"The MLAs are not reachable. They have been detained. They are legislators elected by people, so release them. Let them go and meet people," he told reporters.
However, the MLAs owing allegiance to Sasikala rejected the allegations.
"We are free. We are keenly awaiting Governor's invitation (to Sasikala to form government). We are not children to be detained or abducted as is being reported in a section of media," Perundurai MLA ND Venkadachalam said.
Responding to reports that most of the MLAs were not reachable on the phone, Venkadachalam said he had switched off his mobile phone to avoid taking "unnecessary calls," and speculations and "wrong news."
Gudiyatham MLA Jayanti Padmanabhan also said she has not been detained as was being claimed by Panneerselvam loyalists.
Former minister and senior party leader B Valarmathi insisted that the MLAs were free and alleged they were being "intimidated" by those close to Panneerselvam.
"The MLAs are free. They are being intimidated by Panneerselvam's relatives over phone and that is why they have switched off their mobile phones," she said.
Meanwhile, Srivaikundam MLA and former minister SP Shanmuganathan, a supporter of Panneerselvam, filed a police complaint here seeking to know the whereabouts of the legislators.
"There is no idea where the MLAs are," he said, adding that he has urged the police to find them.
As there was no word from Raj Bhavan about Sasikala's swearing-in even five days after she was elected AIADMK legislature party leader, party spokesperson Vaigaichelvan voiced confidence that she would take over the reins of the state soon.
"Chinnamma (Sasikala) had met the Governor on Thursday. Good news will come soon. She will become the chief minister," he asserted.
He also reiterated the party stand that the DMK was behind Panneerselvam's revolt.
Meanwhile, in an indication that the swearing-in might be further delayed, the venue of the ceremony today wore a desolate look even as the police security was withdrawn.
Soon after Sasikala was elected AIADMK legislature party leader, the University of Madras auditorium was spruced up on a war-footing for her swearing-in.
The heavy police bandobust which was visible for the last few days is no more there and the premises wore a quiet look.
Even the workers who were decking up the entry points are conspicuous by their absence.
© Copyright 2021 PTI. All rights reserved. Republication or redistribution of PTI content, including by framing or similar means, is expressly prohibited without the prior written consent.