The chief minister may have Prime Minister Modi's backing.
T E Narasimhan reports.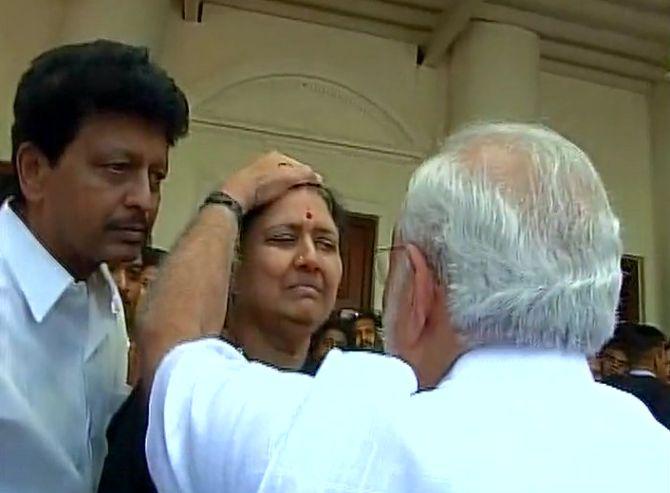 The All India Anna Dravida Munnetra Kazhagam on Thursday, December 29, elected V K Sasikala (known as Chinnaamma), a close aide of the late chief minister J Jayalalithaa, as general secretary.
At the party's general council meeting, the resolution for appointing Sasikala as Jayalalithaa's successor was approved by the 2,490 members.
There was no other contestant.
A general secretary has to be elected by basic party members in Tamil Nadu and office-bearers of party wings in Puducherry, New Delhi, Andhra Pradesh, Karnataka, Kerala, Maharashtra and the Andaman islands. Till then, a person is elected by various wings of the party.
The general council has unanimously decided that the fit person to become general secretary is Sasikala, said AIADMK.
After the meeting, Tamil Nadu Chief Minister O Panneerselvam drove to former AIADMK supremo Jayalalithaa's residence along with senior party leaders and told Sasikala about the decision and requested her to take charge.
She agreed to take charge as the AIADMK's next general secretary, Panneerselvam said.
A section of AIADMK cadres are against Sasikala if she decides to run for chief minister.
Sasikala will also have to convince the Bharatiya Janata Party, which prefers Panneerselvam as chief minister.
Political analyst S Gurumurthy said in an interview that, Sasikala was copying Jayalalitha, but she faced mass discontent among the cadre.
'Her rise will see the AIADMK melt away. The change is the biggest challenge for the AIADMK,' he told a newspaper.
At the AIADMK's first general body meeting after Jayalalithaa's death, Panneerselvam read a condolence message. After that 14 resolutions were read, including one appointing Sasikala as general secretary. All were passed without any objection.
Analysts said the party had over four years in power and ministers would prefer to complete their term.
In the next assembly election, the AIADMK will, however, not have a mass leader to draw voters.
Panneerselvam, on his part, is trying to become more visible. After the recent cyclone he was on the ground almost every day to ensure that life returned to normal in the affected areas. Officials know him as an "active" chief minister.
But many of his cabinet colleagues have said Sasikala should take charge as chief minister. These ministers were chosen by Sasikala to contest the 2016 assembly election.
Analysts are watching Panneerselvam's stance over Sasikala taking up a key role in the party. Some believe he has Prime Minister Narendra Modi's backing.
The BJP may prefer Panneerselvam as chief minister. After Jayalalithaa's death, the party moved swiftly to back him.
For the BJP, this is an opportunity to grab a slice of the votes in Tamil Nadu.
Under Jayalalithaa, the AIADMK provided issue-based support to the National Democratic Alliance.
The relationship is important for the BJP, but it is doubtful that the situation will remain the same under Sasikala's leadership.
IMAGE: Prime Minister Narendra Modi consoles Sasikala Natarajan, December 6, 2016, as her controversial husband M Natarajan looks on.