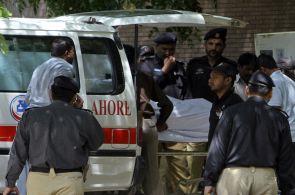 Indian national Sarabjit Singh, who died after a brutal assault by fellow inmates in a Pakistani jail, suffered massive internal bleeding because of a head injury, according to an initial autopsy report.
"It seems that a 5 cm-wide injury on the top of Sarabjit Singh's skull contributed to his death," said one of the members of the medical board that conducted the autopsy.
The member, who did not want to be identified, said the board found some minor injuries on Sarabjit's face, neck and arms.
The board had sent samples of some organs, including the spleen, kidneys, liver, stomach and parts of the brain, for forensic analysis.
Sarabjit, 49, died early on Thursday at JinnahHospital in Lahore, six days after he was brutally assaulted by prisoners inside his barrack at Kot Lakhpat Jail.
An official statement said the cause of death was cardiac arrest.
Officials said a detailed report on the autopsy would be issued after results of tests were received from the Punjab Forensic Science Agency.
Sarabjit was convicted of alleged involvement in a string of bombings in Punjab province that killed 14 people in 1990.
His mercy petitions were rejected by the courts and former President Pervez Musharraf.
His family says he was the victim of mistaken identity and had mistakenly strayed across the border in an inebriated state.
Pakistani rights activists too had called for the reopening of his case.
The Human Rights Commission of Pakistan on Thursday said Sarabjit could not have been fatally attacked in jail "without the knowledge and support of prison guards and the authorities".
Image: Pakistani police move the body of Sarabjit Singh after an autopsy at the Jinnah Hospital in Lahore on Thursday
Photograph: Mohsin Raza/Reuters