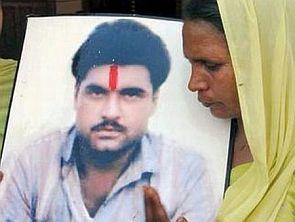 Indian death row convict Sarabjit Singh is in "deep coma" and has been put on ventilator support with doctors saying that they won't be able to perform surgery on him till his condition stabilises.
Sarabjit, 49, is in the Intensive Care Unit of the state-run Jinnah Hospital in Lahore, where he was admitted on Friday after being brutally beaten with blades and pieces of a ghee tin by at least six other prisoners within his barrack at the Kot Lakhpat Jail.
"His condition is critical as he has sustained severe injuries on his head, jaws, abdomen and other parts. He has been put on ventilator support," a senior doctor at the hospital said.
Sarabjit's wife Sukhpreet Kaur, daughters Poonam, Swapandeep Kaur and his sister Dalbir Kaur would be travelling to Lahore on Sunday after the Pakistan High Commission granted them 15 days gratis visa.
Sarabjit was convicted for alleged involvement in a string of bomb attacks in Punjab province that killed 14 people in 1990.
His mercy petitions were rejected by the courts and by former President Pervez Musharraf.
The outgoing Pakistan Peoples Party-led government put off Sarabjit's execution for an indefinite period in 2008.
Official sources told PTI that Sarabjit was in a "deep coma" and doctors were unable to perform surgery on him on Friday because of extensive internal bleeding caused by severe head injuries.


"No surgery can be performed till his condition stabilises," a source said.
The sources quoted doctors at JinnahHospital as saying that Sarabjit's condition was measured as 5 on the Glasgow Coma Scale (GCS), which indicates the level of damage or injury to a person's central nervous system.

The GCS comprises tests of eye, verbal and motor responses. The three separate values and their sum are considered in deciding a person's status. The lowest possible GCS score is 3 while the highest is 15.

Pakistani TV news channels quoted their sources as saying that next 24 hours would be crucial for Sarabjit.

Meanwhile, two Indian High Commission officials got consular access to Sarabjit this morning.
"The officials of India's High Commission in Islamabad obtained access to Sarabjit in the ICU of Jinnah hospital, Lahore at 2:00 am," External Affairs Ministry spokesman Syed Akbaruddin said in Almaty where he is accompanying External Affairs Minister Salman Khurshid on an official visit.

"Doctors attending to Sarabjit Singh informed the Indian officials that he is in coma on ventilator and receiving IV drip," he said.
In the first official statement from the Pakistani government on the incident, the Foreign Office in Islamabad said Sarabjit was injured in a "scuffle" between prisoners.

"Doctors and medical staff at the hospital are working round-the-clock to revive the prisoner, who remains unconscious and on a ventilator," said the statement issued by the Foreign Office spokesman.

Security has been beefed up at the hospital, where dozens of police commandos have been deployed
A murder case was registered against two prisoners -- Amer Aftab and Mudassar -- involved in the assault.

Sources said Aftab, who was on death row after being convicted of murder, had quarrelled with Sarabjit and attempted to attack him some days ago.
Sarabjit's family said they had informed both Pakistani and Indian authorities about the threats to his life.

The family claims that Sarabjit's arrest in 1990 was because of mistaken identity and that he had inadvertently strayed across the border in an inebriated state.
© Copyright 2023 PTI. All rights reserved. Republication or redistribution of PTI content, including by framing or similar means, is expressly prohibited without the prior written consent.