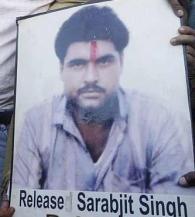 Indian death row prisoner Sarabjit Singh died in a Lahore hospital in the wee hours on Thursday after being comatose for nearly a week following a brutal assault by other inmates of a high-security jail, officials said.
"I received a call from the doctor on duty (at JinnahHospital) at 1 am (1:30 IST) informing me that Sarabjit is no more," Mahmood Shaukat, the head of a medical board that was supervising Sarabjit's treatment, told PTI.

Another doctor, who was part of the team treating Sarabjit said he died of cardiac arrest, adding that doctors made several unsuccessful attempts to resuscitate him.
Officials of the Indian High Commission in Islamabad said they had been informed by officials of Jinnah Hospital about Sarabjit's death.


The Pakistani Foreign Office has stated that Sarabjit's body will be handed over to India after "early completion of all formalities".

Earlier in the day, official sources in Lahore had said Sarabjit had slipped into a "non-reversible" coma and this could lead to "brain death".
His measurements on the Glasgow Coma Scale, which indicates the levels of consciousness and damage to a person's central nervous system, had dropped to a "critical level", the sources said.

Sarabjit's heart was beating "but without brain function" because of the extensive head injuries he sustained when he was assaulted on Friday.
He was completely unresponsive and unable to breathe without ventilator support.
Sarabjit, 49, sustained severe injuries, including a fractured skull, when at least six prisoners attacked him in a barrack at Kot Lakhpat Jail on Friday afternoon.

He was hit on the head with bricks and had been comatose in hospital since then.
Police have booked two death row prisoners -- Amer Aftab and Mudassar -- for the attack. They reportedly told investigators that they had attacked Sarabjit because he had allegedly carried out bomb attacks in Lahore.
No action has been taken so far against officials of the jail for failing to provide adequate security to Sarabjit.

Sarabjit's wife Sukhpreet Kaur, daughters Poonam and Swapandeep Kaur and sister Dalbir Kaur, who went to Lahore on Tuesday to see him, have returned to India.
Sarabjit was convicted of alleged involvement in a string of bomb attacks in Punjab province that killed 14 people in 1990 and spent about 22 years in Pakistani prisons.
His mercy petitions were rejected by the courts and former President Pervez Musharraf.
The previous Pakistan People's Party-led government put off Sarabjit's execution for an indefinite period in 2008.
Sarabjit's family says he was the victim of mistaken identity and had inadvertently strayed across the border in an inebriated state.
Following the rapid deterioration in Sarabjit's condition, New Delhi had requested that he be immediately released so that he could be treated in India or a third country.
Pakistan had said it was "positively considering" the request to repatriate Sarabjit.