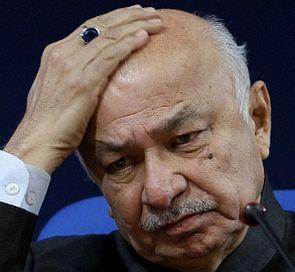 Home Minister Sushilkumar Shinde on Thursday met the family members of Sarabjit Singh, who died in a Pakistani hospital after being comatose for nearly a week, and assured them to make all efforts to bring back his body.


"We are trying our best to get his body as soon as possible. The Ministry of External Affairs is in touch with the Pakistan government," he told reporters after meeting Sarbajit's sister Dalbir Kaur and other family members in New Delhi.

The Home Minister said once the body is received, the last rites will be performed as per the wishes of the family.
"We are trying to get the body. But it will depend on Pakistan government. We will have to wait," he said.
Shinde said India was talking to Pakistan till last to ensure better treatment for 49-year-old Sarabjit, who was brutally attacked in a high-security Lahore jail by fellow inmates on Friday, but could not succeed.

The Home Minister said he has expressed to Sarabjit's sister the condolence of the whole country.
"We are sad Sarabjit is no more with us. It is a very sad incident," he said.
Shinde said India had raised the issue of Sarabjit with Pakistan in different forum and he himself raised the issue when Pakistan's Interior Minister Rehman Malik visited India last year and asked him for the release of the Indian.

"We told Pakistan that Sarabjit Singh was not involved in any case and he should be released. We told them in many occasions that it was a case of mistaken identity," he said.


Asked whether India would demand for an independent probe to find out the circumstances leading to Sarabjit's death, Shinde said "this is not the right time to talk such issue... we will see what we can be done".

Sarabjit succumbed to his injuries early Thursday. He was convicted of alleged involvement in a string of bomb attacks in Pakistan's Punjab province that killed 14 people in 1990 and spent about 22 years in Pakistani prisons.
His family always insisted Sarabjit was innocent and he had inadvertently strayed across the border in an inebriated state