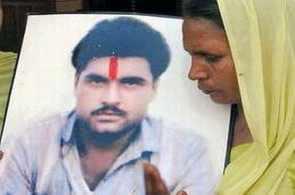 A Pakistani judge investigating the murder of Indian death row convict Sarabjit Singh has appealed to Indian nationals having information about the matter to file written submissions with relevant documents within seven days.
Justice Syed Mazahar Ali Akbar Naqvi of the Lahore high court is investigating the death of Sarabjit following a brutal assault by prisoners within Kot Lakhpat Jail.
"The Indians are required to get themselves registered with one-man inquiry tribunal at official URL http://mail.punjab.gov.pk at the email address: registrartribunals@lhc.gov.pk," said Riaz Ahmed, the personal staff officer of the judge. Ahmed said the judge might visit India in connection with the inquiry if he feels a need.
The tribunal has also invited Pakistani citizens to file written submissions with relevant documents, accompanied with a copy of their computerised national identity card, within seven days. No deadline has been fixed for completing the inquiry.
Five to six prisoners had brutally assaulted Sarabjit in a well-coordinated attack on April 26. After being comatose for nearly a week, Singh died at Jinnah Hospital in Lahore on May 2.
Police registered a murder case against two death row prisoners Amer Aftab and Mudassar for allegedly assaulting Sarabjit. Both men told the police that they wanted to kill Sarabjit, as he was involved in killing innocent Pakistanis in bomb blasts.
A day after Sarabjit's death, Pakistani prisoner Sanaullah Ranjay was assaulted at a jail in Jammu and later died in a hospital in Chandigarh.