Prasanna D Zore/Rediff.com brings you the latest drama surrounding government formation in Maharashtra.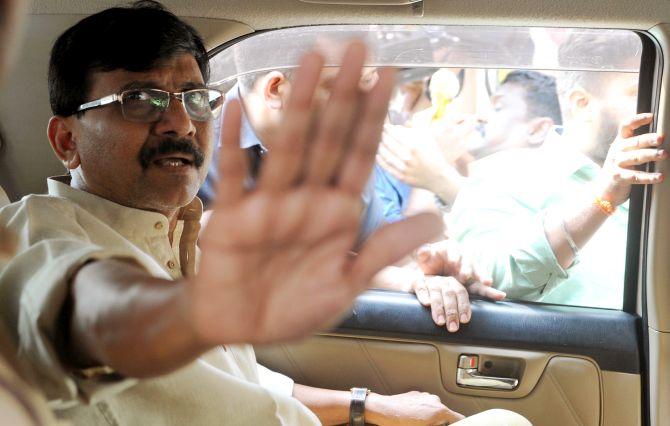 Rediff.com has learnt that the Shiv Sena, Nationalist Congress Party and the Congress will meet with Maharashtra Governor Bhagat Singh Koshyari on late Friday evening or on Saturday with letters of support and stake a claim to form the next government in Maharashtra.
According to a highly placed source, the issue of the Common Minimum Programme is behind the three parties and senior leaders of the Sena-NCP-Congress will meet at 4 pm on Friday to decide the issue of portfolio sharing and then approach the governor.
Senior Congress leader Ahmed Patel will arrive in Mumbai to attend the meeting and meet NCP President Sharad Pawar. Patel may meet Sena President Uddhav Thackeray later in the evening or on Saturday morning before the meeting with the governor.
Though there is agreement about Uddhav Thackeray's candidature as chief minister, "nothing is officially decided yet, but a decision could be made at the meeting of the three parties today," the source added.
Shiv Sena Rajya Sabha MP Sanjay Raut is also emerging as the dark horse for CM.
"That is for the Shiv Sena to take a call. We won't know their decision until we meet at 4 this evening," the source said.
Denying that portfolio allocation has been already agreed upon by the three parties, the source said the evening's meeting will end with a conclusive result as to which party will get how many portfolios.
"Portfolio sharing will be discussed threadbare today and we will know which party will get what and how many portfolios," he said.
Another senior leader said that once the number of portfolios are decided it will be the three partners's internal issue to come up with names for the various ministries.
Denying that the three parties have agreed to change the name of the coalition from Maha Shiv Aghadi to Maha Vikas Aghadi, a senior source cited said "no name has yet been decided."
"The next secular government in Maharashtra will be a reality by tomorrow," the source added.
Blaming Governor Koshyari for the delay in formation of the government, the source added that the "three coalition partners moved swiftly and worked sincerely to give a stable and secular government to Maharashtra within 10 days of these parties entering into a discussion."
"The governor spent 20 days (since the election results were declared on October 24) to make up his mind, but we took just 10 days to complete the process," he said.