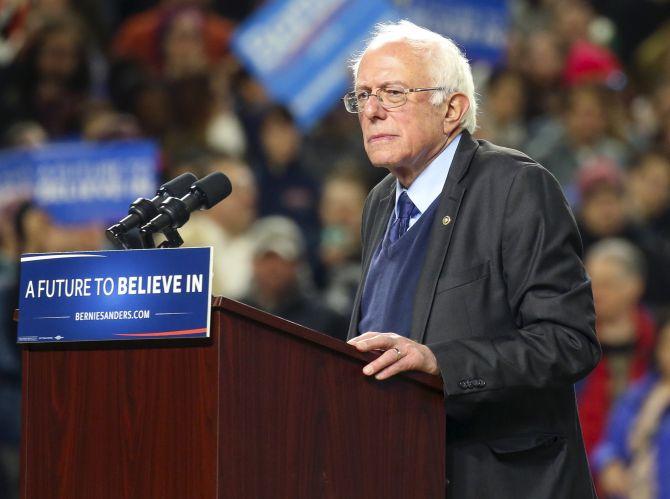 Bernie Sanders has vowed to work with presumptive Democratic presidential nominee Hillary Clinton to defeat Republican Donald Trump in the November polls, but declined to bow out of his race to the White House.
Vermont Senator Sanders, 74, said he is committed to fight for the values and policies that he espoused during his campaign.
"Our vision for the future of this country is not some kind of fringe idea. It is not a radical idea. It is mainstream. It is what millions of Americans believe in and want to see happen," Sanders said on Thursday in a live video address to his supporters from Vermont.
Sanders highlighted his campaign's support for liberal priorities including the labour, civil rights, environmental, women's and gay movements.
"That's what the political revolution is about and that is why the political revolution must continue into the future," he said.
He captured more than 12 million votes, won 22 State primaries and caucuses and came very close, within 2 points or less, in five more states.
Sanders did not announce to suspend his campaign, but vowed to work with Clinton, 68, to defeat Trump, 70, saying in the next five months, his main focus would be to ensure Trump's defeat.
"The major political task that we face in the next five months is to make certain that Donald Trump is defeated and defeated badly. I personally intend to begin my role in that process in a very short period of time.
"This campaign is about defeating Donald Trump, the Republican candidate for president. After centuries of racism, sexism and discrimination of all forms in our country we do not need a major party candidate who makes bigotry the cornerstone of his campaign," he said.
"We cannot have a president who insults Mexicans and Latinos, Muslims, women and African-Americans. We cannot have a president who, in the midst of so much income and wealth inequality, wants to give hundreds of billions of dollars in tax breaks to the very rich. We cannot have a president who, despite all of the scientific evidence, believes that climate change is a hoax." Sanders said.
He said that defeating Trump cannot be his only goal.
"We must continue our grassroots efforts to create the America that we know we can become. We must take that energy into the Democratic National Convention on July 25 in Philadelphia where we will have more than 1,900 delegates," he said.
Referring to his recent meeting with Clinton, Sanders said they discussed some of the very important issues facing the country and the Democratic party.
"I also look forward to working with secretary Clinton to transform the Democratic party so that it becomes a party of working people and young people, and not just wealthy campaign contributors," he added.