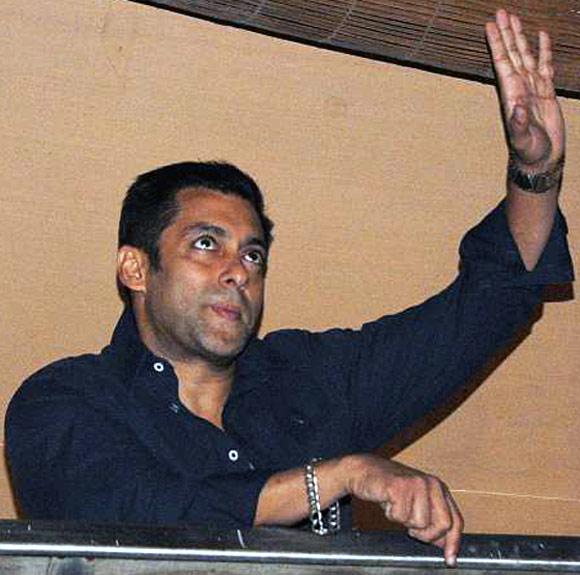 The Supreme Court on Wednesday set aside the Rajasthan high court order keeping in suspension the conviction of Bollywood actor Salman Khan in the black buck hunting case in which he was awarded five-year jail term by a trial court.
A bench of justices S J Mukhopadhyay and A K Goel said that the high court would consider his plea afresh in accordance with the law.
The bench had on November 5, last year reserved its judgment after raising question on the Rajasthan high court's decision staying the mega star's conviction without going into the merits of the case and just to pave the way for him to get visa to travel to the United Kingdom for professional reasons.
Salman had submitted that he would have faced hardship if his conviction would not have been stayed by the high court as it adversely affected his right to travel abroad.
The state government had approached the apex court against the high court order which had, on November 12, 2013 stayed his 2006 conviction in the case and paved the way for him to get a British visa.
Earlier, the court, however, had agreed that age was one of the important factors in life of an actor and it would be harsh if one is not allowed to go abroad till final verdict comes.
Under British immigration rules, any person convicted for more than four years is not eligible for a visa. Since the actor was convicted for five years, he was denied visa by the British embassy. The passports of Indian convicts are stamped with the word 'convict.'
Black buck is a protected animal and its hunting is a punishable offence.
Khan was convicted and sentenced to one-year and five-year prison terms in separate cases of poaching of two Chinkaras at Bhawad and one black buck at Ghoda Farm (Mathania) on the intervening night of September 26-27, 1998 and September 28-29, 1998 respectively.
The actor had approached the high court in 2007 seeking a stay on his conviction by a trial court so that he could file a fresh application for a British visa.
Besides Khan, actors Saif Ali Khan, Sonali Bendre, Tabu and Neelam were accused of poaching near Jodhpur during the shooting of the film Hum Saath Saath Hain.