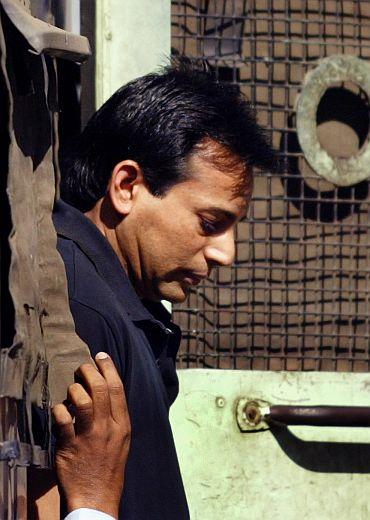 A special Terrorist and Disruptive Activities (Prevention) Act court in Mumbai on Monday convicted Abu Salem and two others in the murder case of city-based builder Pradeep Jain, the gangster's first conviction in the country since his deportation from Portugal in 2005.
"Salem along with other accused hatched the conspiracy to create terror in the minds of Jain, his brother Sunil and the builder community to extort money," TADA court judge G A Sanap said, convicting Salem and Virendra Jhamb and Mehndi Hassan.
Jain was murdered in 1995.
"Salem has been convicted under section 302 (murder) 120 B (conspiracy) of the Indian Penal Code and other relevant Sections of TADA," said Special Public Prosecutor Ujjwal Nikam.
The court convicted Salem and Hassan under the charges of murder, conspiracy and extortion of the Indian Penal code and relevant sections of TADA while Jhamb was convicted of extortion and conspiracy.
Nikam said this is the first case where a person who hatched a conspiracy outside India has been convicted in the country.
Also read: 'Abu Salem will be bumped off... by Indian intelligence agencies'
"It is for the first time that a conspirator (Salem) who hatched a criminal conspiracy outside India for an act committed in the country has been held guilty on the charge of murder," Nikam said.
While pronouncing the verdict, the judge said the prosecution has proved that a conspiracy had been hatched in October 1994 in Dubai by Salem, Khan, Hassan, one Kayyum Ansari and fugitive underworld don Dawood Ibrahim's brother Anis Kaskar to pressure and force Jain brothers to surrender rights to two properties.
As the Jain brothers did not succumb to threats, Salem changed his plan and struck a deal with them and asked them to pay him Rs 1 crore.
"The Jain brothers had already paid a sum of Rs 10 lakh and failed to pay further installment due to poor financial condition," the judge said.
He said that after the first installment had been paid, Salem called up Jain brothers to demand more money when they had heated arguments.
"In the heated arguments, Salem's ego was hurt and he conspired to eliminate Jain," the judge said. Judge Sanap said that even after Pradeep Jain's killing, his family continued to receive threats from Salem.
"The death of Jain did not snap the conspiracy and Salem continued the spell of threats to extort money from his brother Sunil," he said.
The conspiracy, the judge said, was brought to its logical end only after the sale of three flats and receipt of the ransom amount by Salem in Dubai through hawala channels.
In 2002, two shooters Shekar Kadam and Subash Bind had been sentenced to life imprisonment by the Supreme Court in the case. The two had been acquitted by the trial court but the verdict was overturned by the Supreme Court when the state had moved in appeal.
Appeals in TADA cases can be heard only by the apex court. Another conspirator Subedha Yadav was sentenced to three years imprisonment.
An accused Naeem Khan had become an approver while another Riyaz Siddiqui, who had also turned approver, was later declared hostile. Siddiqui's trial is going on separately.
The prosecution and defence counsel are like to argue on the quantum of sentence on Tuesday. Since the beginning of trial in 2008, the prosecution examined around 25 witnesses and the defence one.
Salem, an accused in the 1993 Mumbai serial blasts, was extradited from Portugal on November 11, 2005, after a prolonged legal battle.
In 2012, The Supreme Court of Portugal had dismissed an appeal of the Central Bureau of Investigate which had challenged termination of his extradition. Salem has moved the Supreme Court of Portugal seeking directions to Indian government to execute its order of cancelling his extradition.
In June 2012, Salem was shot at in the Taloja Central jail in Navi Mumbai allegedly by gangster Devendra Jagtap, an accused in the murder case of advocate Shahid Azmi, who had represented a 26/11 Mumbai terror attack case accused.
© Copyright 2022 PTI. All rights reserved. Republication or redistribution of PTI content, including by framing or similar means, is expressly prohibited without the prior written consent.