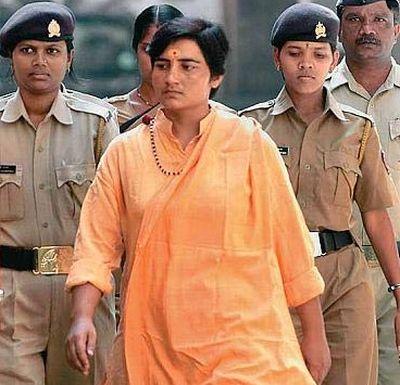 Sadhvi Pragya Singh Thakur, who last week got a clean chit in the 2008 Malegaon blast case, on Wednesday broke her two-day-long hunger strike by drinking a glass of juice offered by a child at Vande Mataram Ashram of Vishwa Hindu Parishad in Ujjain.
She called off her fast as the authorities made the arrangements for her to visit the ongoing Kumbh Mela.
Sadhvi had gone on a hunger strike at the government-run Pandit Khushilal Sharma Ayurvedic Hospital in Bhopal as the authorities earlier did not allow her to take part in the Kumbh Mela despite a Dewas court's order.
She is currently in judicial custody and undergoing treatment at the Ayurvedic hospital.
Pragya is expected to take a holy dip in the Shipra river on Thursday. She arrived on Wednesday evening from Bhopal by road.
The Dewas court had on Tuesday asked the concerned officials to make arrangement for Pragya to bathe in Shipra river by May 21 when the Kumbh Mela ends.
On May 4, the court had accepted her plea to allow her to take part in Kumbh, her aide Bhagwan Jha told PTI.
Last Friday, the National Investigation Agency dropped all the charges against Sadhvi and five others in the Malegaon blast case.
Seven people were killed in a blast in Malegaon town of Maharashtra on September 29, 2008.
Pragya is also being tried for allegedly masterminding the killing of the Rashtriya Swayamsevak Sangh pracharak Sunil Joshi at Dewas in 2007.