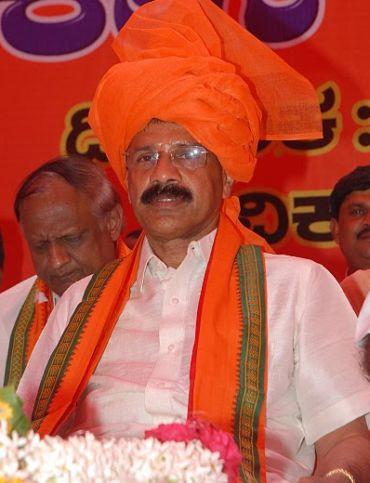 Lok Sabha member D V Sadananda Gowda was on Thursday sworn-in as chief minister of Karnataka, succeeding B S Yeddyurappa, who quit in the wake of the Lokayukta report on illegal mining that indicted him.
Governor H R Bhardwaj administered the oath of office to 58-year-old Devaragunda Venkappa Sadananda Gowda at the Raj Bhavan. He is the 26th chief minister of the state and the second Bharatiya Janata Party member after Yeddyurappa to hold the position.
Gowda will have a term of 22 months. Elections are due in the state in May 2013. Yeddyurappa resigned on Sunday following the diktat of the party's central leadership in the wake of the damning report, after being in office for 38 months.
Earlier, Gowda drove to Yeddyurappa's residence and later visited Jagadish Shettar, whom he defeated in a secret ballot  the BJP legislature party meeting on Wednesday.
He sought the cooperation of members of legislative assembly who backed his opponent when they were having breakfast. The Shettar camp told him not to come under Yeddyurappa's influence.
"We appealed to him not to become a puppet and discharge his responsibilities under the stranglehold...," Shettar camp follower and MLA, Arvind Limbavali, said. He was  apparently referring to Yeddyurappa.
Outgoing Home and Transport Minister R Ashoka, part of the Shettar-Ananth Kumar faction, said Shettar has rejected the deputy chief minister's post, and there was no question of accepting the offer.