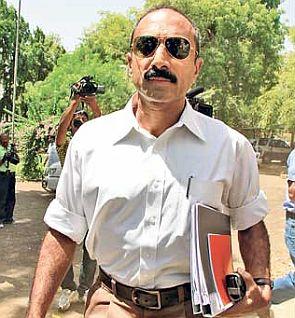 Sacked Gujarat cadre IPS officer Sanjiv Bhatt was rebuked for his conduct of contacting opposition Congress party, NGOs and their activists to influence the Supreme Court which on Tuesday said he has not come up with "clean hands" to question the lodging of criminal cases against him.
The apex court dismissed his petitions seeking a court-monitored SIT probe in relation to the two FIRs against him for allegedly forcing his subordinate to file an affidavit in a 2002 riots case and hacking e-mail of a senior law officer, who is now an Additional Solicitor General.
His allegation was dubbed as totally "false and baseless" that the apex court-appointed Special Investigating Team to probe the 2002 Gujarat riots cases had been leaking very sensitive and confidential details.
The top court noted in its judgement the contents of the e-mail exchanged by Bhatt, who was a high ranking officer, with an activist of Narmada Bachao Andolan in which he has "mentioned to create a situation so as to make it difficult for a 3-Judge Bench of this Court to disregard shortcomings of SIT and exerting pressure by the groups and opinion makers in Delhi" in the case of Zakia Jafri seeking lodging of FIR against politicians and cops of Gujarat.
"It is apparent the petitioner had acted in deliberation and consultation with the leaders of rival political party, NGOs and had sent the e-mails to the effect that he was not fully exploited by a counsel of the rival political party while his statement was being recorded before Justice Nanavati Commission.
"He had exchanged e-mails with rival political party leaders and was being tutored by the lawyer of NGO and its activist... Petitioner has used the media card, has even sent the e-mails to influence the judicial proceedings of a 3-Judge Bench of this Court and has tried to influence the amicus curiae," a bench comprising Chief Justice H L Dattu and Justice Arun Mishra said.
The bench, which favoured investigation against the controversial IPS officer, took strong exception to Gujarat Police constable K D Panth being pressurised to sign an affidavit testifying that Bhatt had participated in a high-level meeting after the Godhra carnage.
The apex court disapproved the submissions advanced by his laywers including senior advocate Indira Jaising for handing over the probe from state police to SIT. In the petitions, which were filed in 2011, Bhatt had sought CBI probe but in a fresh application he said since the agency was under the control of the Centre he had apprehension about fair investigation.
"No case is made out to constitute SIT. No doubt about it 'be you ever so high the law is above you' is a well accepted principle but in the instant case the conduct of the petitioner cannot be said to be above board. Neither it can be said that he has come to the court with clean hands.
"Petitioner (Bhatt) was a high ranking officer but he too cannot be said to be above law. He must undergo the investigation as envisaged by law in case he has committed the offences in question," the bench said.
The apex court held that there was no need to monitor the case "any further" as chargesheet has already been filed and the case of hacking of e-mail account was not such which needs any investigation by SIT, CBI or court's monitoring.
"It was submitted that the Court can transfer investigation after chargesheet is filed. That can be done only in extraordinary cases. Considering the scope and ambit of enquiry in both the cases...the submission is untenable," the bench said.
It criticised Bhatt for making claims about his presence in a crucial meeting of February 27, 2002 convened by the then Chief Minister after nine years and dragging his subordinates to testify about it and submitting the affidavit of Panth to apex court-appointed amicus curiae assiting in the riot cases.
Further, the bench said Bhatt tried to mislead the apex court and even made false suggestions associated with Panth.
"Petitioner (Bhatt) after keeping quiet for nine years had taken K D Panth with himself to the SIT on March 25, 2011 and insisted that Panth should be examined in his presence.
"It was not expected of a senior officer like petitioner to act in the aforesaid manner. Effort of petitioner to examine K D Panth on March 25, 2011 in his presence by SIT was indicative of pressure tactic employed by him," the court said adding that Bhatt had also filed "concocted documents regarding award of Rs 500 given to Panth for working till late night on February 27, 2002."
"The original award is in vernacular language, not in English and the outward number is incorrect. It was not for working overnight on February 27, 2002 as contended by the petitioner. It was for taking care of entire situation post February 27, 2002 incident.
"The petitioner has tried to mislead this Court and has made false suggestions. The award was given by the State Government to all employees for taking care of post the situation of February 27, 2002 incident," it said.
The court also directed that the investigation in the matter relating to hacking of email of a law officer be made expeditiously in accordance with law.