The Samajwadi Party's first family is again at war.
UP CM Akhilesh Yadav and his uncle Shivpal Yadav fired barbs at each other at an event to celebrate the SP's silver jubilee, barely two days after putting up a united show.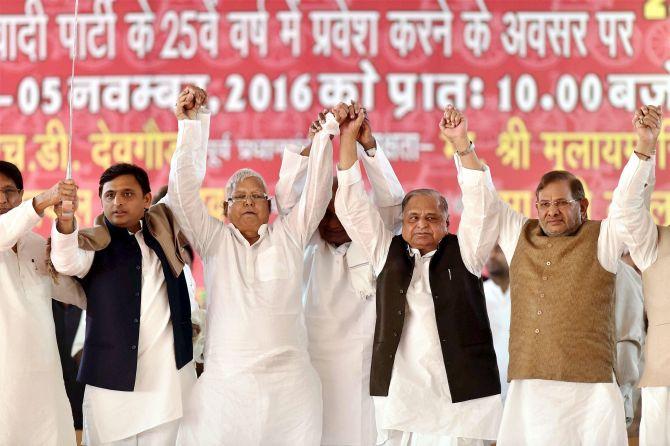 IMAGE: Rashtriya Lok Dal Ajit Singh, Uttar Pradesh Chief Minister Akhilesh Yadav, Rashtriya Janata Dal chief Lalu Prasad Yadav, former prime minister H D Deve Gowda, Samajawdi Party founder Mulayam Singh Yadav and Janata Dal-United President Sharad Yadav at the SP's 25th Foundation Day celebrations in Lucknow, November 5, 2016. Photograph: Nand Kumar/PTI Photo
Uttar Pradesh's ruling Samajwadi Party has been witnessing a fierce fight between Chief Minister Akhilesh Yadav and his uncle Shivpal, the state SP chief, despite repeated attempts by patriarch Mulayam Singh Yadav to broker a peace.
With top leaders of Socialist-leaning parties present at the the SP's 25th Foundation Day celebrations in Lucknow on Saturday, November 5, a move seen as an attempt by Mulayam Singh to forge a grand alliance ahead of the assembly polls in UP a few months away, the nephew and uncle exchanged cutting remarks that exposed the deep divisions within the SP's first family.
Shivpal fired the first salvo when he, in a not so subtle manner, hinted at Akhilesh having got the chief minister's chair because he was Mulayam Singh's son.
"Some people get things because of fate, some through hard work and some as part of inheritance. But some keep doing hard work through their lives and don't get anything," Shivpal, who is Mulayam Singh's youngest brother, said.
Asserting that he had done good work and cooperated with Akhilesh in the four years his nephew has been chief minister, Shivpal said, "I want to tell popular CM Akhilesh that whatever sacrifice you want from me, I will make. I never want to become chief minister. You can insult me, sack me as many times (as minister) as you want, but I am prepared to give even my blood for the party."
With Shivpal flashing his sabre first, Akhilesh hit back when his turn came to speak.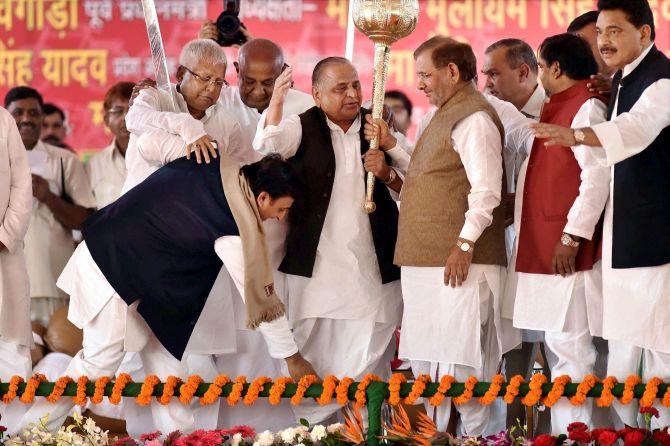 IMAGE: Akhilesh seeks his father's blessings. Photograph: Nand Kumar/PTI Photo
Pointing towards Gayatri Prasad Prajapati, the controversial minister in his government who he had sacked over graft allegations but later reinducted at his father's insistence, Akhilesh said, "Prajapati has presented me the sword. You give me a sword and don't want me to use it."
The chief minister was hinting at opposition from the Shivpal camp over the sacking of ministers facing corruption charges.
Akhilesh had also sacked Shivpal Yadav from the ministry in a tit-for-tat action after Mulayam Singh expelled his cousin Professor Ram Gopal Yadav from the party for six years.
Professor Yadav, the leader of the SP in the Rajya Sabha until his unexpected explusion, has been backing the chief minister in his fight against his uncle.
Rejecting criticism over his lack of political and administrative experience, Akhilesh said, "If you want to put me to the test I am ready for that. Our target is to defeat the BJP (Bharatiya Janata Party) and the BSP (Bahujan Samaj Party) in the 2017 elections."
"This UP election," Akhilesh declared, "will decide the future of the country."
With the party he founded facing tough times ahead of the assembly polls, Mulayam Singh who was present at the flagging off of his son's 'Vikas Se Vijay Ki Ore' rath yatra on Thursday, kept mum on the resumed strife.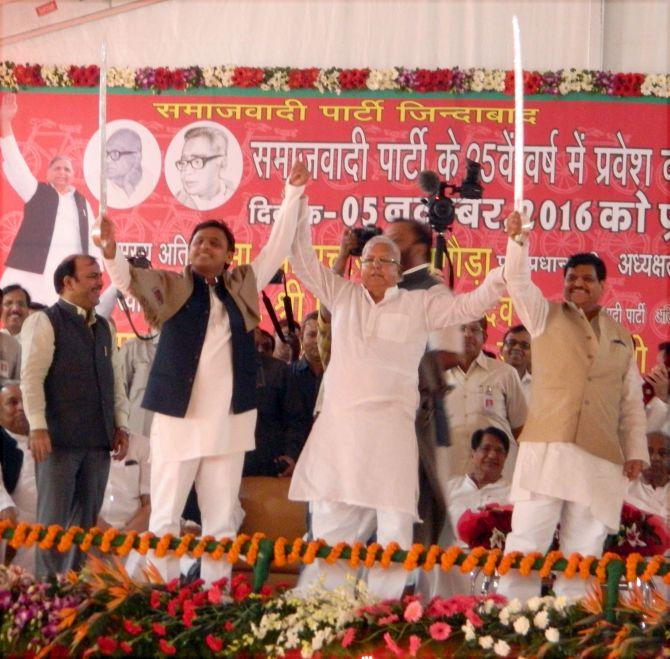 IMAGE: Say cheese! Lalu Prasad Yadav with Akhilesh and Shivpal Yadav. Photograph: Sandip Pal
Lalu Prasad Yadav, whose youngest daughter is married to Mulayam Singh's grand nephew, made an attempt to paper over the differences in the SP's first family when he declared that everything is all right within the party.
"They stand together... there is no rift or fighting. I ask Akhilesh babu to respect his seniors and hoist the flag of victory in Uttar Pradesh once again," Lalu said, before making the feuding uncle and nephew stand beside him, holding aloft their hands that held swords.
The sharp exchanges came barely 48 hours after Shivpal extended his "best wishes" to Akhilesh at the event to flag off his rath.
Mulayam Singh, who till a few days ago, was seen siding with Shivpal and friend Amar Singh, surprised many when he flagged off the rath, in a bid to show all was well within the party.
Amar Singh, the SP MP and general secretary who Akhilesh accused of conspiring against him and the party, was conspicuously absent at Saturday's event despite it being a Mulayam show.
Also absent was the SP's Muslim face, minister Azam Khan.
Amar Singh and Azam Khan have been at daggers drawn for many years now.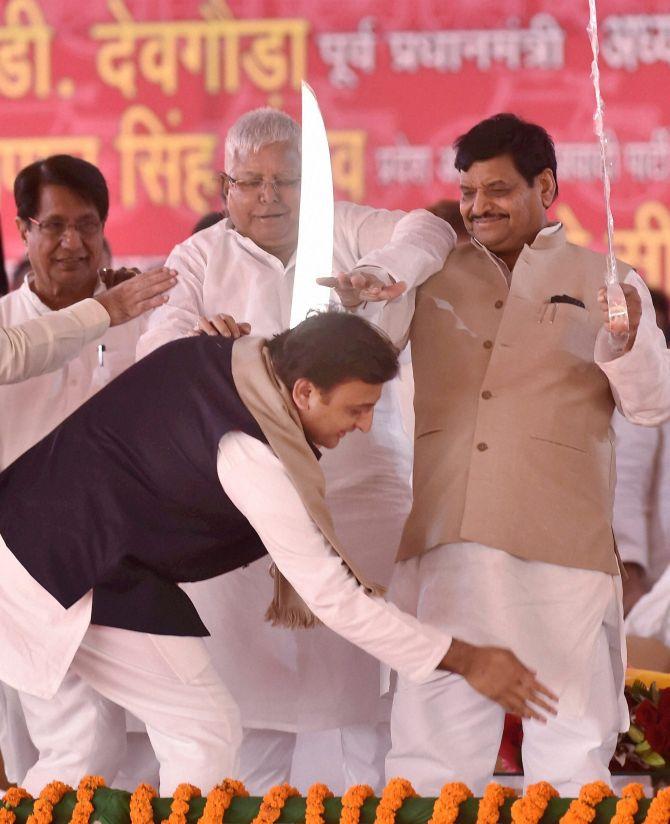 IMAGE: Akhilesh seeks his uncle Shivpal's blessings. Photograph: Nand Kumar/PTI Photo
The acrimony between the rival camps was on display when Javed Abidi, an Akhilesh loyalist, started addressing the gathering, despite his name not featuring on the list of speakers.
As Abidi began praising the chief minister, calling him the "future of the party," Shivpal was seen pushing him away from the lectern.
"Everyone should maintain discipline. Indiscipline will not be tolerated," Shivpal said.
Shivpal had snatched away the microphone from Akhilesh's hands at a party event recently and called him a "liar" when the chief minister accused Amar Singh of hatching a conspiracy against him.
With his party a divided house, Mulayam Singh sought to address the large Muslim constituency in the state, saying they suffered most injustice.
"Muslims have suffered most injustice in the country and they still stand with the Samajwadi Party," Mulayam Singh said.
A majority of Muslims have been backing Mulayam Singh since the Babri Masjid demolition, but some party leaders feel the Muslims may shift to BSP due to the infighting in the Samajwadi Party.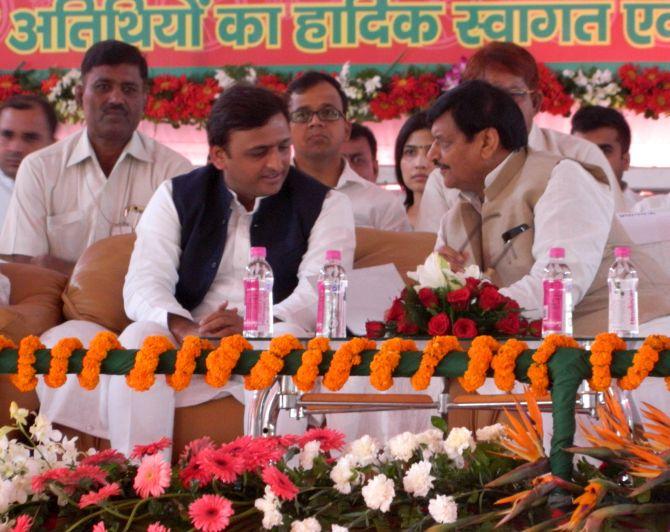 IMAGE: All smiles. Photograph: Sandip Pal
Though the Socialist warhorse spoke about the sacrifices made by the Socialists, ranging from his political mentor Dr Ram Manohar Lohia, Jayaprakash Narayan, Raj Narain and Karpoori Thakur, he made no reference to the need for unity in his party which he has been doing in recent weeks.
Leaders of the erstwhile Janata Parivar underscored the need for unity to prevent the BJP from coming to power in UP and spoke about the need for forging a coalition.
Lalu Yadav declared his party would not contest the UP elections to prevent a split of secular votes. "We will put our force behind the SP," Lalu told the gathering, "and will hold hundreds of meetings in its favour".
© Copyright 2021 PTI. All rights reserved. Republication or redistribution of PTI content, including by framing or similar means, is expressly prohibited without the prior written consent.