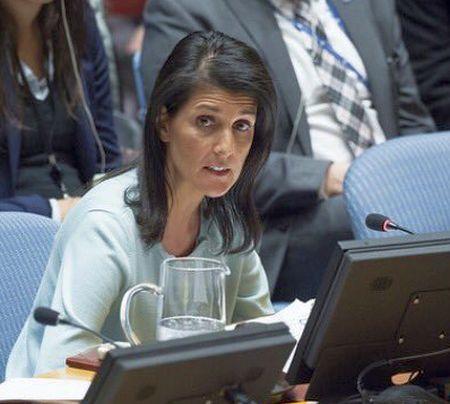 United States Ambassador to the United Nations Nikki Haley on Sunday said that Russia was "certainly" involved in the US presidential election last year and the matter would be addressed once the probe is completed.
Russia was "involved in" interfering in the US presidential election, she said.
"Certainly I think Russia was involved in the election. There is no question about that. I think when they finish with all of this process, yes, they need to address Russia. They need to act... We do not want any country involved in our elections ever. And so once that information comes out, I expect that will be handled accordingly," Indian-American Haley told ABC News in an interview.
Russian President Vladimir Putin has denied that his country meddled in the 2016 US Presidential election.
"I can tell you that in my dealings with Russia in particular at the United Nations, we beat up on them because we thought that what they did with Crimea and what is happening in Ukraine is wrong. We called them out for it," she said.
Haley, the first Indian-American to hold a Cabinet level position in any presidential administration, made her first Sunday talk shows appearance today in her capacity as the US Ambassador to the UN. She was responding to questions on the general impression that the US is being soft on Russia, which she strongly denied.
"What we have said is that they are not being helpful in the way that they and Iran are covering up for Assad. We do not think that is helpful. We need their pressure when it comes to dealing with ISIS, and we also need their pressure when it comes to dealing with China and North Korea.
"So there is certain things that we do work with Russia on and then there is certain things when they do something wrong, I have no problem calling them out on it," Haley said.
"But again nobody is talking to me about that at the United Nations. What everybody is talking about at the United Nations is what is going to happen with North Korea? How are we going to deal with the crisis that we are seeing in Syria? What are we doing to wage the war on ISIS?" she said.
US President Donald Trump and the administration agree that Russia's involvement in Ukraine is wrong.
"I think that if you listen to what he said about the elections, of course we do not want any country involved in our elections. So that is going to happen. I think that Russia is very aware that they are on notice when it comes to certain issues.
"They are very aware that we do want to try and defeat ISIS together, if that is at all possible, along with our allies. There is no love or anything going on with Russia right now. They get that we are getting our strength back, that we are getting our voice back, and that we are starting to lead again," she said.
Haley demanded more action from China on North Korea.
The US, she said, no longer takes the excuses from China that they are concerned, too.
"They need to show us how concerned they are. They need to put pressure on North Korea. The only country that can stop North Korea is China. They know that. I think that you saw when Secretary Tillerson went to Beijing, that was a way of putting pressure.
"You are going to see President Trump meet with President Xi (Jinping) and a lot of conversation and the most important conversation will be how we are going to be dealing with the non-proliferation of North Korea," Haley said.
China, she said, has to cooperate.
"This is now down to do we want to continue to see these ballistic missile attacks from North Korea or does China want to do something about it? This is all about the fact that they need to have action. And we are going to continue to put pressure on China to have action. That will be shown in multiple ways.
"What we are going to do is say China, you know that you are the only one that is doing this. We appreciate that you stopped coal going into North Korea, but we know it is going in other ways. At some point, we need these definitive actions by China condemning North Korea and not just calling them out for it," Haley said.
China and Russia play very different roles, she said.
"They both are getting involved across the world in all different pockets. Their tentacles are everywhere, she said. Russia is doing it through elections and through military actions and through trying to get involved in conversations.
"China is doing it economically. If you look at their infrastructure, they are everywhere in the world now and they want to continue to do that so that they have a stronghold," Haley observed.
"What we need to do is say that is fine, if they are going to continue to do that, they are also going to have to be accountable for the things that they are responsible for. We do think North Korea is one of those that they need to be held accountable for," said the top American diplomat.