"There is NO COLLUSION!" Trump tweeted, insisting that there was no collusion with Russia.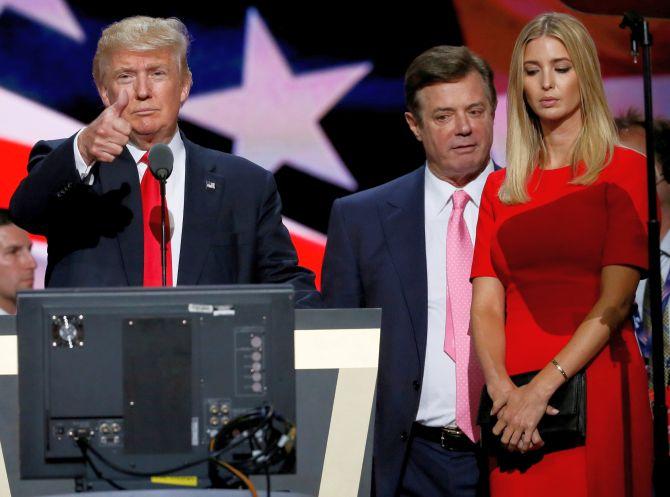 Donald Trump's former campaign manager Paul Manafort was on Monday charged with conspiracy against the United States and money laundering, triggering a political storm and marking the first indictment in the investigations into Russian interference in the 2016 presidential elections.
Manafort, 68, and his business associate Rick Gates, 45, surrendered to federal authorities this morning. Manafort has pleaded guilty to lying the Federal Bureau of Investigation.
The two have been charged on 12 counts including conspiracy against the United States, conspiracy to launder money, unregistered agent of a foreign principal, false and misleading US Foreign Agents Registration Act statements, and false statements.
The indictment is part of the investigations being done by former FBI chief Robert Mueller, who has been appointed by the Department of Justice as a special counsel to probe into the allegations of Russian interference into the presidential elections and the connection with the Trump Campaign if any.
The 30-page indictment filed in federal court here also accused both men of funneling tens of millions of dollars in payments through foreign companies and bank accounts.
Manafort joined Trump's campaign team in March 2016, and was elevated to the role of campaign manager in June. He resigned amidst a scandal about his foreign consulting work.
He has been charged of laundering over USD 18 million in funds from his work for a pro-Russia party in Ukraine through off shore accounts. A former lobbyist, Manafort among others had also lobbied for separatist Kashmiri groups in the US.
In total, more than USD 75 million flowed through the offshore accounts. Manafort is accused of laundering more than USD 18 million, according to the indictment.
Trump was quick to react, insisting that there was no collusion with Russia and calling on his Democratic party rival Hillary Clinton to be investigated.
"Sorry, but this is years ago, before Paul Manafort was part of the Trump campaign. But why aren't Crooked Hillary & the Dems the focus?????," he tweeted as the news broke about Manafort's indictment.
"There is NO COLLUSION!" Trump asserted in another tweet.
Mueller is also investigating if Trump indulged in obstruction of justice.
The Clinton Campaign and the Democratic Party have alleged that the Russian interference had contributed in Trump's victory and the shocking defeat of Hillary Clinton.
The indictment, unsealed on Monday, also revealed that George Papadopoulos, a foreign-policy advisor to the Trump Campaign, has pleaded guilty to the FBI about his contacts with a professor connected with the Russian Government officials.
"Manafort and Gates concealed from the US their work as agents of, and millions of dollars in payments from, Ukraine and its political parties and leaders," the indictment said.
It alleged that Manafort used his hidden overseas wealth to enjoy a lavish lifestyle in the United States, without paying taxes on that income.
Manafort, without reporting the income to his tax preparer or the United States, spent millions of dollars on luxury goods and services for himself and his extended family through payments wired from offshore nominee accounts to United States vendors, the indictment alleged.
However, the indictment does not appear to be related to heir work on Trump campaign last summer. The two are accused of money laundering between 2005 and 2016, when the worked for a pro-Russia party in Ukraine.
While Manafort did not respond to questions, his spokesperson Jason Maloni had previously said that the former lobbyist in the past "didn't collude" with the Russian government to help Moscow interfere in the 2016 election.
Citing officials, CNN reported that the White House lawyers met with the President today to explain the federal charges leveled against the former campaign officials.
While Clinton has so far not commented on the issue, the Democrats were quick to capitalize on the indictment, which has resulted in a political storm in the American capital.
Democratic Leader Nancy Pelosi reiterated her demand for an "an outside, fully independent investigation to expose Russia's meddling in our election and the involvement of Trump officials".
Senate Minority Leader Senator Chuck Schumer said the indictment show that the special counsel's probe is ongoing in a very serious way.
"The rule of law is paramount in America and the investigation must be allowed to proceed unimpeded," he said.
"The President must not, under any circumstances, interfere with the special counsel's work in any way. If he does so, Congress must respond swiftly, unequivocally, and in a bipartisan way to ensure that the investigation continues."
This investigation must continue unobstructed by the White House, asserted Congressman Joe Crowley.
"Any attempt to interfere with the special counsel's investigation would be unacceptable and would require immediate, bipartisan action by Congress to ensure Special Counsel Robert Mueller's independence," he said.
Image: Donald Trump with his campaign manager Paul Manafort and daughter Ivanka at the Republican National Convention in Cleveland on July 21, 2016. Photograph: Rick Wilking/Reuters
© Copyright 2019 PTI. All rights reserved. Republication or redistribution of PTI content, including by framing or similar means, is expressly prohibited without the prior written consent.