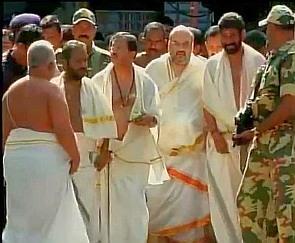 The Rashtriya Swayamsevak Sangh's district-level leader in Kannur, Kerala, was hacked to death on Monday morning. The district has been witnessing a bloody feud between the Communist Party of India-Marxist and the RSS.
Elanthottil Manoj, the latest victim of this violence, was hacked to death by goons who barged into his house. Manoj was the district leader of the Sharirik Shikshan, affiliated to the RSS. The incident occurred in Kizhakke Kadirur near Thalassery, the epicentre of political violence in Kannur district.
Only last week, a Bharatiya Mazdoor Sangh worker, Suresh Kumar, was killed in the district, allegedly by CPM activists.
The Bharatiya Janata Party and the RSS have called for a hartal in Kannur district on Tuesday following Manoj's killing.
The latest murder took place even as RSS chief Mohan Bhagwat and the BJP's national president Amit Shah are in Kerala. Bhagwat was in the state for the past seven days, addressing organisational matters in different parts of south Kerala .
The latest incident of violence comes in the wake of reports of several CPM cadres switching over to the BJP.
Manoj is said to have been one of the pillars of the RSS in the troubled areas of Thalassery and Panoor. A police case had been filed against some CPM activists for attacking Manoj some years earlier.
In fact, CPM workers were found guilty of murdering their former activist, T P Chandrasekharan, in May 2012. Chandrasekharan had switched over from the CPM to the Revolutionary Marxist Party.
Thalassery has witnessed many volatile political killings in the past. The BJP youth wing's state vice president K T Jayakrishnan was killed in an upper primary classroom as he was teaching students. The BJP's former general secretary of Kannur district, Panniyanoor Chandran, was killed while he was riding a motorcycle along with his wife.
Image: BJP president Amit Shah (third from right) visiting the Padmanabha Swamy temple in Thiruvananthapuram, on Monday.