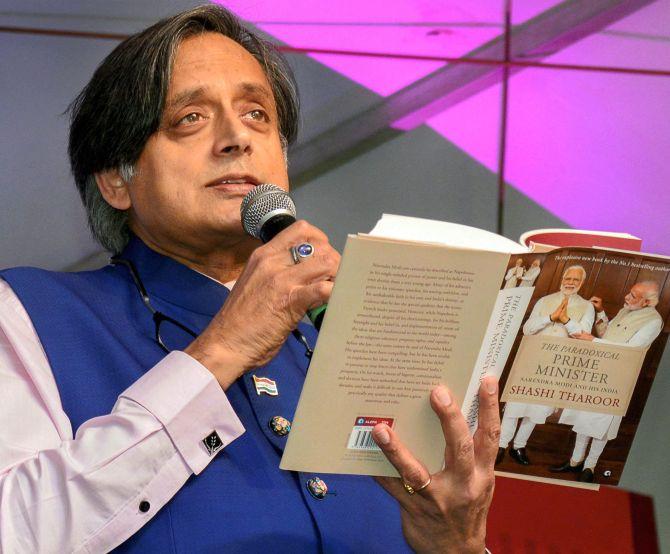 Congress leader Shashi Tharoor stoked a fresh controversy on Sunday claiming that an unnamed Rashtriya Swayamsevak Sangh leader had compared Prime Minister Narendra Modi to "a scorpion sitting on a Shivling" and terming it as an extraordinarily striking metaphor.
As his comments at the Bangalore Literature Festival drew condemnation, including from Union minister Ravi Sankar Prasad, the MP tweeted saying the remarks were not made by him and were in the public domain for six years.
In a stinging condemnation, Prasad, a senior Bharatiya Janata Party leader, alleged that Tharoor had disrespected Lord Shiva and sought an apology from Congress president Rahul Gandhi.
In his speech at the festival, Tharoor said "...There is an extraordinarily striking metaphor expressed by an unnamed RSS source to a journalist which I quote, in which they express their frustration with their inability to curb Mr Modi.
"The man says Modi is like a scorpion sitting on a Shivaling. You cannot remove him with a hand and you cannot hit it with a chappal either," he said.
Suggesting that it was a very profound understanding of the relationship, the Congress leader said, "Because, if you remove a scorpion with your hand, you will get stung very badly. If you hit Shivaling with a chappal, then you have undermined all the sacred tenets of the faith.
This might well be a very interesting clue to the rather complex dynamics that exists "between the Hindutva movement and the Moditva expression...," he added.
Prasad hit out at Tharoor for the remarks, which also evoked strong reaction on social media, and asked Gandhi whether he supported his party leader's comments.
"The Congress claims to represent the heritage of Mahatma Gandhi, Jawaharlal Nehru and Indira Gandhi. Today, under the presidentship of Rahul Gandhi, it has been reduced to hurling abuses and the worst form of civil discourse," he told reporters in Delhi.
He said while he would not like to comment on Tharoor's remarks "against whom a chargesheet has been filed in a murder case", but want to know where Rahul Gandhi, who claims to be a Shiv Bhakt, stands on the issue.
"Gandhi claims to be a Shiv Bhakt now he should make it clear whether he supports Tharoor's remarks which are an insult to Lord Shiva. If he does not support the remarks he should apologise to Hindus," Prasad said.
"The whole nation is watching ... while Rahul Gandhi who claims himself to be a Shiv Bhakt, one of his small leaders has almost abused the sanctity of Shiv Linga and Lord Mahadev by referring to chappal attack through named sources. Please reply to this very horrific denunciation of Lord Mahadev," he added.
WATCH THE VIDEO BELOW
As his speech stirred a controversy, Tharoor tweeted, clarifying that the comments were not made by him.
"In view of the unseemly demonisation of an out of context remark today involving a scorpion metaphor, my book #TheParadoxicalPrimeMinister cites & footnotes this article please see the last paragraph of this article," he said.
"This comment (not by me) has been in the public domain for six years. RSPrasad making an issue of a 6yr old quote shows how little new the BJP has to offer the nation. As for media subserving the BJPs desire for
"controversy", when will this profession develop any self-respect?" he asked in another tweet.
This is the second time in recent months that Tharoor has landed in controversy over his remarks on the prime minister.
Earlier, in August this year, he had spoken about Modi donning "outlandish" Naga and other headgear on his trips but refusing to sport a Muslim skull cap, drawing condemnation from the BJP which had dubbed it as insulting to the people of the North-East.
Recently, Tharoor had also kicked up a row with remarks that no "good" Hindu would favour a Ram temple in Ayodhya by demolishing somebody else's place of worship.
The BJP reacted strongly, terming his party and its chief Rahul Gandhi "anti-Hindu".
© Copyright 2022 PTI. All rights reserved. Republication or redistribution of PTI content, including by framing or similar means, is expressly prohibited without the prior written consent.