Amidst the fanfare over Rashtriya Swayamsevak Sangh's plans to celebrate Netaji Subhas Chandra Bose's birth anniversary in Kolkata on January 23, his daughter Anita Bose-Pfaff has said that the organisation's ideology and the nationalist leader's ideas of secularism and inclusiveness are 'poles apart and do not coincide'.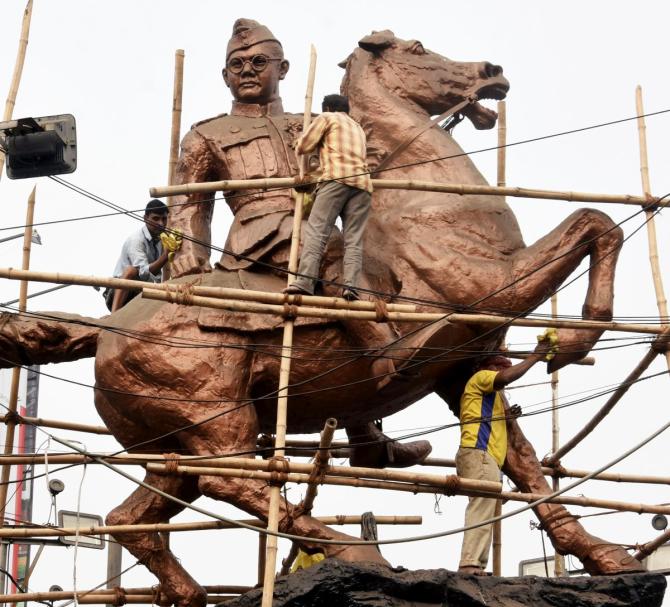 She agreed that the fanfare over the celebration of her father's birth anniversary is to 'partially serve their (BJP, RSS) own interests'.
As far as ideology is concerned, the Congress has a lot more in common with Netaji than any other party in the country, she said.
RSS chief Mohan Bhagwat will address a public programme at Shahid Minar ground in the city to commemorate Netaji Subhas Chandra Bose's birth anniversary.
BJP and RSS do not reflect the idea of respecting all religions as preached by Netaji, who was a devout Hindu but believed in respecting other faiths. He was in favour of productive cooperation between members of different religions, Bose-Pfaff said.
"The RSS and BJP do not necessarily reflect this attitude ... If you want to put a simple label, they are rightists and Netaji was a leftist," she told PTI over phone from Germany where she lives.
"From what I hear about the RSS ideology, I would agree that it and Netaji's ideology are poles apart. The two value systems do not coincide. It will certainly be good if the RSS felt it wanted to embrace Netaji's ideals and ideas. Many different groups want to celebrate Netaji's birthday in different ways and a number of them necessarily agree with his ideas," Bose-Pfaff said.
Asked whether Netaji was a critic of the RSS, she said, "I don't know any quote (of Netaji) which I can give you. He may have made critical statements about RSS members. I know what his (Netaji's) views are and about RSS. The two value systems do not coincide. RSS and Netaji's ideology of secularism do not coincide with each other."
Speaking on the recent pomp and fanfare over Netaji's birth anniversary celebrations, she lauded the Bharatiya Janata Party-led government at the Centre for taking a 'lot of initiatives' to honour him.
"This has two aspects. After Independence, the official Congress stand on Netaji was reserved and not shared by all Congressmen. It wanted to keep the narrative that it was only the civil disobedience movement that led to the country's freedom. But after Netaji files were declassified, we came to know that Indian National Army (INA) played a very key role in it," she said.
On the second aspect, Pfaff wondered whether BJP would have honoured Netaji if he had held divergent views from that of the present-day government.
"The BJP has made a lot of effort to honour Netaji. With any politician, you have first to allow them to look at his/her interest. If Netaji was alive today and held a different view from that of the government, then the BJP would not have honoured him. So (in this case) it is their interest that is served," she said.
The Trinamool Congress and BJP had locked horns to appropriate Netaji's legacy on his 125th birth anniversary ahead of the assembly polls in 2021.
In 2015, the West Bengal government released 64 files on the leader held by the home department.
The Narendra Modi government at the Centre released 100 files on him the next year.
After Independence, the Centre had formed three inquiry commissions to unravel the mystery of Netaji's disappearance.
Two of them -- the Shah Nawaz Commission and Khosla Commission were formed by the Congress governments and concluded that Bose died in an air crash on August 18, 1945, soon after taking off from Taihoku airport in Taiwan.
The third one -- the Mukherjee Commission formed by the BJP-led National Democratic Alliance government said he did not.
© Copyright 2023 PTI. All rights reserved. Republication or redistribution of PTI content, including by framing or similar means, is expressly prohibited without the prior written consent.