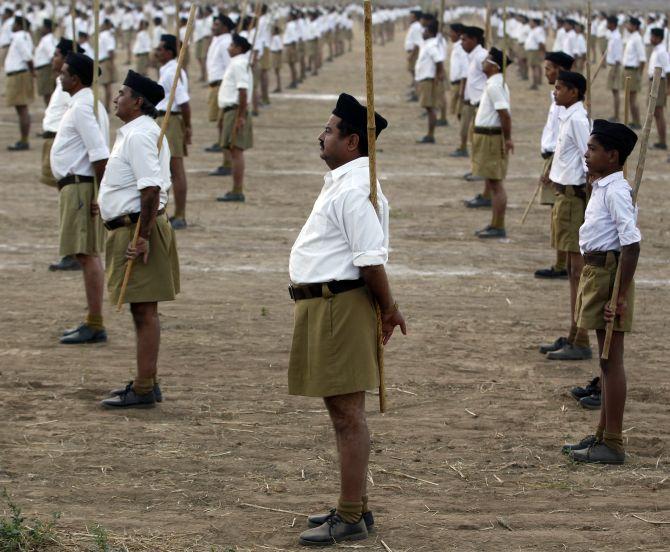 Following suggestions by some senior officer-bearers that the traditional khaki shorts be replaced by full-length pants, Akhil Bhartiya Pratinidhi Sabha, the highest decision-making body of the Rashtriya Swayamsevak Sangh, has formed a committee to examine the issue.
Satish Modh, RSS Sanghchalak of Konkan region, said, "The issue of changing our uniform was brought up during our three-day long meeting of Karyakari Mandal in Ranchi, which decided to form a committee.
"The committee would put forth its recommendations in the next meeting of Pratinidhi Sabha in March 2016 at Nagaur in Rajasthan, and a decision would be taken accordingly."
During the meeting, several pracharaks said that the shorts discourage youths from joining the RSS, and hence the uniform should be updated.
"Half-pants is our most reputed and trusted brand and this is why we say that knickers are there only because of the Sangh, and the Sangh is not because of the knickers," he quipped.
The issue of doing away with khaki shorts had been discussed at RSS forums and circles many times in the past.
The RSS dress-code till the start of World War-II was the all-khaki uniform. It was designed by Keshav Baliram Hedgewar, the first Sarsangchalak of the RSS, who chose it from the uniform of the Congress Seva Dal. The Seva Dal is the grassroots unit of the Congress formed in 1924.
In 1930, the khaki cap was replaced with a black cap, and in 1940, white shirts replaced khaki shirts after the British government banned the RSS "ganvesh" and its route marches.
The next change came around the time of the Emergency, when the RSS dropped its military-style long boots for black shoes.
-- With inputs from PTI