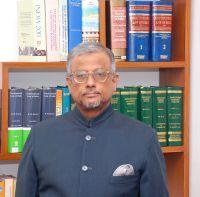 Shumsher K Sheriff, who took over as secretary general of Rajya Sabha last month, was on Thursday introduced in the House by Chairman Hamid Ansari.
The IAS officer of 1977 batch will hold the office of secretary general till August 2015 in the rank of Cabinet Secretary.
59-year old Sheriff has had 35 years of administrative experience in government and held various positions both in the state, centre and international assignments.
Starting his career began as lecturer in Delhi University in 1974, joined Indian Administrative Service in the AGMUT Cadre three years later, serving in the forward-most districts of Arunachal Pradesh.
During his tenure in Delhi, he headed the transport department apart from being a member of the task force to prepare a report for the metro services.
He served the Department of Economic Affairs, Ministry of Finance and was the head of the Vice President's Secretariat advising on parliamentary matters. He was also Joint Secretary and Secretary to the President from 1997 to 2002.
Sheriff also served as Senior Advisor to the Executive Director of Asian Development Bank at Manila, Philippines from 2002-2005. Thereafter, he was posted as Chief Secretary, Andamans & Nicobar Islands.
Image: RS Secretary General Shumsher K Sheriff