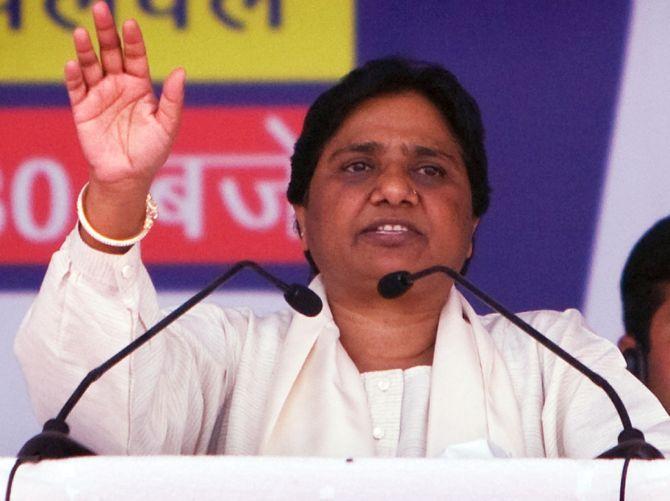 Bahujan Samaj Party MLA Anil Singh on Friday indicated that he had cross-voted in favour of the Bharatiya Janata Party in the Rajya Sabha polls, saying "I am with Maharaj-ji", referring to Uttar Pradesh Chief Minister Yogi Adityanath.
Deputy leader of the BSP Legislature Party Uma Shankar Singh also said he cannot be sure that Anil Singh had voted for the BSP candidate Bhimrao Ambedkar.
The Unnao MLA's vote could be crucial as it gives BJP the edge in getting a ninth Rajya Sabha seat from Uttar Pradesh. It is already assured of eight seats on the basis of its strength in the assembly.
Anil Singh said he had cast his vote and showed it to BSP agent Lalji Verma and the rest could be known from him.
"I have cast my vote after showing it to Lalji Verma and he will tell you the details... I am with Maharaj-ji (Adityanath)," he said after voting at the Tilak Hall in the assembly complex.
According to Uma Shankar, 17 MLAs of the total 19 had cast their votes by midday and shown them to Verma.
"We are not very sure about Anil Singh as he was not present either in the meeting last night nor in the breakfast with party chief Mayawati this morning," Uma Shankar said.
Another MLA of the party, Mukhtar Ansari, is in Banda jail.
The BSP leader exuded confidence that all the nine surplus MLAs of the Samajwadi Party as well as seven of the Congress and one of the Rashtriya Lok Dal have voted in favour of his party candidate.
"All the seven Congress MLAs went together to vote, while the SP has given us a list of their loyal MLAs," Uma Shankar said.
The BSP, which has fielded the second opposition candidate, is already short of one vote in the event of the court's refusal to let Ansari vote.
Independent MLA Aman Mani Tripathi said he was with 'Maharaj ji' and would vote for the BJP.
There are 11 candidates for 10 Rajya Sabha seats and 37 first preference votes required for victory in each seat.
Since the BJP and its allies have 324 seats in the Uttar Pradesh assembly, the saffron party can easily bag eight of the 10 seats and will still be left with 28 surplus votes as the four-MLA strong Suheldev Bharatiya Samaj Party has decided to go with the ruling party.
"There can be some contest on the ninth seat," a senior UP BJP leader said.
The Samajwadi Party, which has fielded Jaya Bachchan, and the BSP, which nominated Bhimrao Ambedkar, appeared confident of winning one each of the remaining two seats.
© Copyright 2021 PTI. All rights reserved. Republication or redistribution of PTI content, including by framing or similar means, is expressly prohibited without the prior written consent.