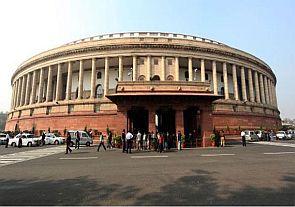 Cross-voting by Left and Congress MLAs on Friday helped Trinamool Congress gain an extra seat in West Bengal while a similar action by Congress MLAs in Andhra Pradesh saw the Telangana Rashtra Samithi making its debut in Rajya Sabha as high drama marked the polls to the upper House in the two states.
In Odisha, opposition Congress leader and IPL Chairman Ranjib Biswal managed to come out triumphant when ruling Biju Janata Dal failed to ensure the win of an independent candidate, backed by it, as six of its MLAs did not transfer their surplus votes in his favour.

West Bengal
Trinamool's official candidates -- film star Mithun Chakrabarty, painter Jogen Chowdhury and industrialist K D Singh -- emerged winners in West Bengal, where five seats were up for grab.

An independent nominee Ahmed Hasan, a journalist backed by Mamata Banerjee-led party, romped home at the expense of Congress-supported independent candidate A S Malihabadi as five legislators from the opposition Left Front and Congress voted for Hasan.
Three Left MLAs Sunil Mondal of Forward Bloc, Atanu Deb Adhikary and Dasarath Tirkey of RSP, and Congress members Sushil Roy and Emani Biswas cross-voted. While Hasan secured 47 votes Malihabadi got 37.
Congress suspended both Sushil Roy and Emani Biswas.

Left Front nominee Ritabrata Banerjee, SFI General Secretary, was also elected.
While Trinamool and Left were assured of comfortable victory for their official candidates, the entire drama was riveted on whether the fifth seat would go to Congress-supported Malihabadi or whether Trinamool could trigger a coup by luring three MLAs from opposition to send Hasan through.

Odisha
In Odisha, Ranjib Biswal and three BJD candidates won.

While the win of the BJD nominees were expected, Biswal, who was in the fray for the fourth seat, managed to emerge victorious by bagging 29 votes as against 20 of his rival BJD-backed independent candidate Raghunath Mohapatra, a leading sculptor.
Each candidate required 30 first preference votes to win the elections.

BJD's official candidates A U Singhdeo got 33 votes followed by Kalpataru Das (32 votes) and Sarojini Hembram (31 votes).
As BJD's official candidates got six more votes than their requirement, Mohapatra secured only 20 votes. On the other hand, Biswal not only secured Congress's 27 MLAs but could also manage to two more votes.

Andhra Pradesh
In Andhra Pradesh, Congress bagged three seats while TDP and TRS secured two and one respectively.
The victorious candidates are: K V P Ramachandra Rao, D Subbirami Reddy and M A Khan while T Seetamara Lakshmi and G Mohana Rao (both TDP) and K Keshav Rao (TRS) also got through.

Much of Congress worries were settled when rebel Congress MLA, Adala Prabhakar Reddy, pulled out from the race on Thursday, leaving the contest for the party a mere formality as 6 candidates remained in fray for an equal number of seats.

The victory of Keshava Rao, who hails from Telangana, clearly brought out the primacy of regional loyalty. TRS had only 17 MLAs in the assembly but the party candidate sailed though following support from four CPI MLAs and backing of a number of Congress MLAs from Telangana region.

This is the first time that TRS will have a representative in Rajya Sabha.

Assam
In Assam, Congress nominees, including Sanjay Singh from Uttar Pradesh whose entry into the fray had evoked protests, and a ruling party-back candidate won the three Rajya Sabha seats.
Congress state president Bhubaneswar Kalita and Lok Sabha MP from Sultanpur Sanjay Sinh, bagged 32 of the 125 votes and the party-supported candidate Bodo People's Front nominee Biswajit Daimary 29.
Combined opposition supported candidate eminent journalist Haidar Hussain lost securing 26 votes.
Haidar Hussain was supported by the BJP and minority-dominated All India United Democratic Front (AIUDF) and regional party Asom Gana Parishad (AGP).