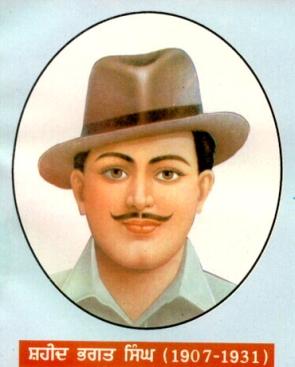 Members in Rajya Sabha on Monday voiced concern over official records not showing Bhagat Singh as a martyr, prompting the government to promise remedial steps.
"If his (Bhagat Singh's) name is not in the records, it will be done. The government thoroughly considers him a martyr and gives him the status of a martyr," Minister of State for Parliamentary Affairs Rajiv Shukla said.
His response came after members cutting across party lines expressed concern that the great freedom fighter was not shown as a martyr in government records. This was revealed in an RTI reply by the home ministry.
The issue was raised during Zero Hour by Janata Dal - United leader K C Tyagi, who said the nation recently celebrated its 67th Independence Day but the status of a martyr still eludes its greatest freedom fighter.
Several other members associated themselves with Tyagi, demanding that the martyr's name be included in the official record.
Shukla said the government held Singh in the highest esteem and Ambika Soni , the then Union tourism and culture minister, had in 2008 released commemorative coins at Khatkar Kalan in Nawanshahar, Punjab, the ancestral village of the martyr.
The government has even changed the name of Nawanshahar to Shahid Bhagat Singh Nagar, he said.
Prime Minister Manmohan Singh had on Saturday asserted that whether the freedom fighter was a martyr was not dependent on any official record.
Dr Singh had termed the controversy on the matter as "hurtful to a nation that is indebted to the struggle and sacrifices of our freedom fighters" and made an appeal to people to desist from creating a row over it.
Tyagi said another patriot Raj Narain's name was not included in the list of freedom fighters despite his son writing to the government on the issue several times.
Raj Narain was a key political figure during the anti-Congress movement and had defeated Indira Gandhi in the 1977 Lok Sabha elections from her home turf Rae Bareli in Uttar Pradesh.
Senior Bharatiya Janata Party leader Venkaiah Naidu said, "The government should take it very seriously and include the name (Bhagat Singh) in the list of martyrs.
A number of members, including Bahujan Samaj Party leader S C Mishra and JD-U leader Shivanand Tiwari, also voiced their support for the demand.
© Copyright 2023 PTI. All rights reserved. Republication or redistribution of PTI content, including by framing or similar means, is expressly prohibited without the prior written consent.